PAPA GENO
Radovan Karadzic, the Bosnian Serb warlord who was one of the architects of the Bosnian war of the mid-'90s, was captured last week in Serbia after spending nearly 13 years as a fugitive. Karadzic faces 11 charges in front of a United Nations war crimes tribunal, including a charge of genocide for his involvement in the mass extermination of Bosnian Muslims. *:U.N. officials hailed the capture of Karadzic as a strong signal to the world community of their commitment to stamp out genocide, saying, "Never again-as long as they're white."
ELECTIONEERING BOOGALOO: ONGOING COVERAGE
Barack Obama wrapped up his world tour last week, meeting with Middle Eastern and European leaders, and speaking to a crowd of over 200,000 in Berlin of the need to repair the alliance between Europe and the United States. Back in the U.S., John McCain held press conferences in the dairy aisle of a Pennsylvania grocery store and in front of Schmidt's Fudge and Sausage Haus in Ohio. *:In related news, McCain's campaign is now being managed by that plump German exchange student from "The Simpsons" who wears lederhosen.
SIRIUSLY
The Federal Communications Commission last week approved the 17-month-long, $3.5 billion merger of satellite radio providers XM and Sirius. The programming of each provider will now be available as a single package to their respective subscribers. *:The FCC resisted approving the merger for so long out of fear the two companies would create a monopoly, and because they were still really busy staring at Janet Jackson's nipple.
FLOOD LOSS
Hurricane Dolly became the first storm of the season to make landfall in the United States last week, dumping torrential rain in Texas and New Mexico. Hundreds were evacuated in the path of the Category 1 hurricane-which downgraded to a tropical storm-due to flooding, and two people are missing in New Mexico. *:Texas was also inundated with a flood of cable news meteorologists, its levees overflowing with idiots in ponchos standing outside during a hurricane. Tragically, there were survivors.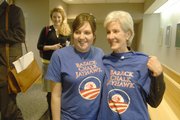 AGAIN WITH THE T-SHIRTS
The KU Young Democrats ran afoul of the KU Athletics Department recently when it gave Governor Kathleen Sebelius a T-shirt reading "Barack Chalk Jayhawk." KU, which owns a trademark on the phrase "Rock Chalk Jayhawk," did not want to be seen as endorsing a particular political candidate and asked the Young Democrats to stop printing the shirts. *:In other legal briefs, KU's lawyers have asked Barack Obama to either change his name or cease existing.
BASTARD OUT OF CAROLINA
Former North Carolina senator and onetime presidential candidate John Edwards was dogged last week by accusations from the National Enquirer he had a "love child" during an affair with a former campaign worker, Rielle Hunter. Edwards has refused to comment on the story and Hunter has said the child does not belong to Edwards. *:The Enquirer had pointed to a picture of the child and its uncanny resemblance to Edwards, but was forced to issue a retraction when it turned out to just be a creepy photograph of the baby-faced Edwards in a diaper. »
More like this story on Lawrence.com