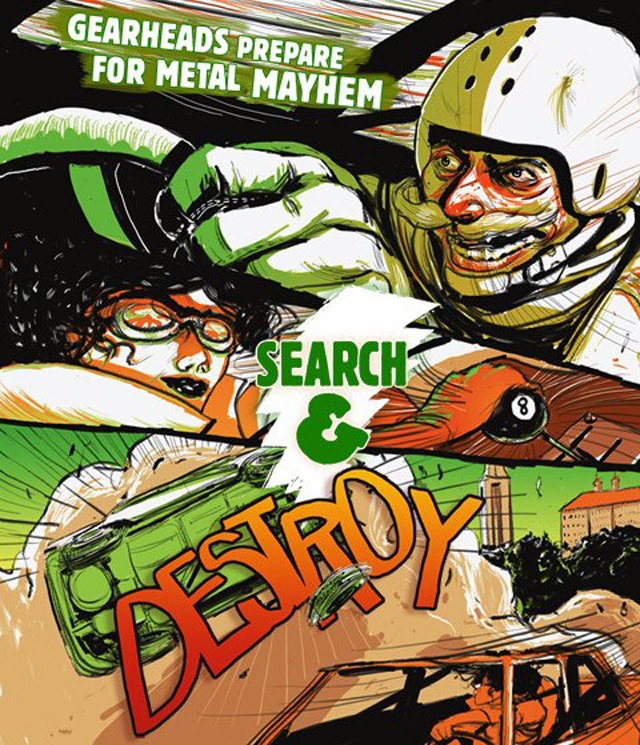 Stained blue jeans and leather boots, 95-degree heat, a rusty '76 Chevy Impala. Jay Armbrister is in his shop and has work to do.
Friday night, at the Douglas County Fairgrounds, the Impala might last 30 minutes. It might last 45. Try and kill the other cars, try and keep yours going. It'll be a blur, and then it will be over.
Armbrister's wife, Betsy, is in their Baldwin house, rolling her eyes as he burns through more of his time and their money out back, and their 5-year-old daughter, Baily, is asking if she can watch "Speed Racer."
Time and money. In the weeks leading up to a demolition derby, all of it drains away in this sweltering shop. Last year, it was a hotrod engine he sweated over and bled $1,500 into. It lasted one derby, in Overbrook, and melted down.
He hopes for better luck Friday. "I know I'm going to be working the rest of the night," says the 32-year-old Douglas County Sherriff's deputy, sweating in his shop, an oil rag in his hand. "When the sun goes down the mosquitoes are going to be pouring in here. I know that. But I just can't not do it. I can't."
Past Event
Friday, August 1, 2008, 7:30 p.m.
Douglas County 4-H Fairgrounds, 2110 Harper, Lawrence
All ages / Free - $10
¢¢¢
In other eastern Kansas garages, other oil-stained men who can't not do the same thing prepare for the Douglas County Fair's demolition derby, the biggest one in the area and, for some gearheads, the main event of the year.
Last year, Jamie Frost placed second in the full-size class. Frost, a 25-year-old automotive technician at Slimmer's Automotive, is your classic demolition derby driver, raised drinking oil out of the teat. When he was a baby, his dad drove at the Douglas County Fair. At 15, he entered his first derby, in Ottawa.
Today, he and a group of friends crisscross the state and travel as far as Iowa to compete in about seven derbies a year. But most important is the one in his hometown. "Everybody wants to win Lawrence," he says.
Frost competes in both the full-size, or "old iron," class-usually big, early-to-mid-'70s cars-and the compact class-smaller cars and trucks that span a wide range of models and years. (A third class is for cars built since 1980.) Each car may sustain the punishment of a couple of derbies before it's off to the scrap heap. He trashes about three a year.
There are a million technical rules about what can or cannot be modified: "No added supports from the cross pipes or tubes to the floor pan or door posts." "Steering column shaft can be altered." "Only two of the following: bolting, chaining, #9 wire, cabling or welding, can be used to secure your trunk lid, doors and cutouts."
Beneath all that, of course, it's simple: knock the other cars out of commission. "It's just like going out and driving bumper cars," Frost says, "but you're going a lot faster."
In the Shop
Jay Armbristerdiscusses thedemolition derby life
View audio slideshow (8 min.)
¢¢¢
To the untrained eye, a demolition derby may look like a big, ugly hornet's nest of souped-up junkers banging into each other. But there's beauty, Armbrister says, in this annihilation of American steel.
"It's nice to take an old relic of a car-this car sat out in weeds for probably 20 years," he says, gesturing toward the Impala, "and drag it out and give it, basically, its last hurrah. Put a heartbeat back in it and send it off in style."
When Armbrister entered his first derby in Ottawa four years ago, he was 28 with a wife and a young daughter (he now has two)-precisely the stage in life in which many decide to call it quits.
The small truck, an old Ford Courier, that he drove in the compact class in his first competition was discarded by his friend Kyle Guenther (who has won multiple derbies in Lawrence). "A car came through the door and made the battery explode, and it covered him with battery acid," Armbrister explains. "He didn't want to get back in it anymore."
After that incident, naturally, Armbrister took the truck off Guenther's hands. As the drivers fired up their engines, he recalls, he felt like throwing up. And peeing. It was high school football all over again.
"But once it gets going, you just forget all about everything else," he says. ":As soon as they drop the flag and you start driving, you're looking to not get killed and you're looking to kill somebody."
(We're relatively sure the kind sherriff's deputy is not actually trying to kill people; you get the idea.)
¢¢¢
Frost says swallowing the demolition derby hook is easy. "Once they do it the first time," he says, "you'll see them again next year." Getting it out is the hard part.
Chris Cheek, 34, quit two years ago after about a decade of driving. But rather than walk away, he now officiates derbies in Lawrence and Ottawa and helps organize the Lawrence derby as a member of the Douglas County Fair Board.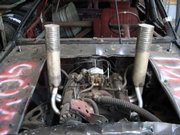 "I grew up smashing my Hot Wheels cars and derbying them together, smashing them with hammers and stuff," says Cheek, field operations supervisor with Lawrence Utilities. "It's always been real fun just to watch it and hear it. I'm a motorhead freak. I love that stuff."
Now, as an official, he makes sure everyone's car follows the lengthy, complex system of rules that basically ensure the cars are safe and no one has gone beyond what's allowable to make a car smashproof.
Inspections are crucial, because once the derby begins, there's usually no taking the seal of approval back, even if it becomes obvious that the official missed something the driver did to illegally enhance the car. "Drivers try to get away with as much as they can with a car," he says. "They try to hide stuff."
¢¢¢
In 2005, Armbrister drove to Clinton, Mo., to pick up what would become his first self-fashioned derby car for the Douglas County Fair, a '75 Pontiac Catalina he found on eBay and spent the summer rebuilding for about $2,000. (If you're wondering, the winner of the old iron class at this year's fair gets $1,200.)
Since then, he's been cut and burned several times, but almost all of it has happened in his shop. He lifts his arm to show a fresh burn above his right wrist from touching a hot piece of metal. "That kind of stuff happens all the time," he says. ":But to me those are pretty superficial."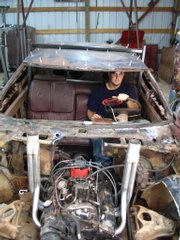 He's cautious enough about safety features, like a rollover bar to keep the roof from caving in and a protected gas tank, that he doesn't worry too much about getting hurt during the derby, he says.
Before he's done, like everyone, he wants to win his hometown derby. In 2006 he placed fourth, his highest finish in the three years he's competed at the fair. Behind his shop, a '63 Ford Galaxy and a pair of '74 Impalas sit in the grass, waiting their turn. »
More like this story on Lawrence.com