Elizabeth Schulte
Age: 20
Sign: Libra
Hometown: Overland Park
Time in Lawrence: 1 year
Occupation: Kief's Downtown sales girl, graphics student at KU
What were you doing when scouted? Walking back to work from Juice Stop.
Favorite stores? Kief's, any coffee shop, and The Dusty Bookshelf.
How would you describe your style? Disney princess.
Where do you get your hair cut? I haven't gotten it cut in a while, and I usually to go Overland Park to get it done.
Photo Gallery
Style Scout: Elizabeth Schulte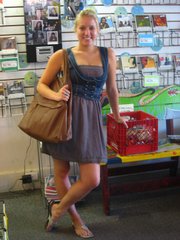 Favorite trends? Cute little dresses, sandals in general, and I'm a big fan of scarves and vests.
Least favorite trends? Plaid on plaid, leggings as pants-they're usually worn by people that shouldn't be wearing them and then paired with Ugg boots.
Favorite coffee shop: I go to La Prima Tazza a lot, and Z's when I'm at work. They both always have local art displayed, which is nice. La Prima Tazza also has a really cool ceiling.
Favorite places to hang out? I to go shows at the Bottleneck occasionally. Mostly I just go to parties at friends' houses.
What would you like to see more of in Lawrence? I'd like to see more cute little clothing stores and more people on bikes so there are less people on the road. It would be nice to see people dressing up or trying a little bit more with fashion. I'd also like to see more of "Precious Love" Rob.
What would you like to see less of? I'd like to see less frat guys, less rampant stupidity, and less road construction.
Who are your fashion influences? I'm a big fan of crazy '60s fashion, although I don't have that much of it. I'm into the big sunglasses thing, and I really like Scarlett Johansson's style. I'm also inspired by folk music.
What are you listening to right now? Emotionalism by The Avett Brothers and The Black Keys
Tell us a secret: I'm completely in love with Wesley from "The Princess Bride" and have been since I was 5 years old.
More like this story on Lawrence.com