Kyle Sheline
Age: 22
Sign: Virgo
Hometown: Oklahoma City, Okla.
Time in lawrence: 2 years
Occupation: Concert promoter for Up to Eleven
What were you doing when scouted? Getting kicked out of a women's clothing store.
Favorite stores? The Jackpot, The Replay Lounge, Jensen Liquor, Taco Bell, Love Garden, and The Merc.
How would you describe your style? I wear the same thing every single day.
Where do you get your hair cut? The last time I got my hair cut was in 2005.
Photo Gallery
Style Scout: Kyle Sheline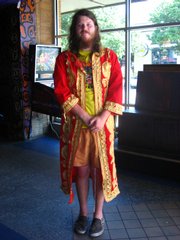 Favorite trends? Socks with sandals and silver tooth fillings.
Least favorite trends? Cleavage.
Tattoos/piercing? Zero. I was going to get a tattoo, but I got scared.
Favorite coffee shop? I don't drink coffee, yet.
Favorite bar? Charlie's East Side. If you're really nice, they'll give you two grilled cheese sandwiches instead of one.
What would you like to see more of in Lawrence? Oklahomans, gas stations, slushies, Burrito Kings, and ice cream trucks.
What would you like to see less of? Kids on leashes.
Who are your fashion influences? Willie Nelson and kindergarten teachers.
Tell us a secret: I've never seen Star Wars, I've never worn Chapstick, and I've never been to a strip club.
More like this story on Lawrence.com