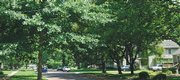 Welcome to our ongoing project, LJWorld.com/Green. Here you can find tips on how to make your life environmentally friendly and read stories about what others in the community are doing to live a more green lifestyle. Eat local, conserve resources, be green.
The second Little Green Festival will take place this weekend in South Park to showcase and celebrate the green in people's lives while sharing information on how to be more environmentally friendly.
The two-day event is free.
From 10 a.m. to 6 p.m. Saturday, 14 hours of music is lined up from 9 a.m. to 11 p.m. Food from Ingredient and Local Burger will be available and more than 100 eco-friendly participants will share their sustainable ideas ranging from bamboo skateboards to green cleaning products.
Other features include speakers, a Kids Green Zone with hands-on activities, story telling, scavenger hunts and birding. There also will be a Green Pets area with natural veterinary care and snacks.
Two films will be played in the park after dark. "Human Footprint" will play at 9:30 p.m. and "Planet Earth" will start at 10:15 p.m.
Sunday's highlight is the Little Green BlueGrass Jam from 11 a.m. to 6 p.m.
Visit www.littlegreenfestival.com for more details and the music schedule.