Patrick "Uncle Sam" Bowen, traveling pipe and hat vendor, Austonian, patriot
How do you save money?
"Buying food at the grocery store and not spending all of my money on food at the concert. Lots of ramen and soup. I also roll my own cigarettes-it's super cheap. It's saved me a few thousand dollars, already. When I'm at a festival like Wakarusa, I try to cut deals with other vendors. If there's another vendor out there, and they're cool people, they can come to our tent and do some trades. If you're a festival-goer, look for the best deals, because deals are out there. You've got to shop around, that's what it's all about. I spent $1 on this hat and these sunglasses. USA! Let your freak flag fly!"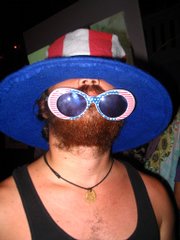 What do you splurge on?
"We'll get a lot of booze after the festival and party. We'll probably hit up some bars in Lawrence. Sometimes we'll splurge on ribs or something nice and tasty and delectable-although most of the money is going to gas."
More like this story on Lawrence.com