Emily Robinson
Age: 29
Sign: Virgo
Hometown: Topeka
Time in Lawrence: 12 years
Occupation: waitress and sassy lady about town
What were you doing when scouted? Enjoying the beautiful day and celebrating my friend Katie's birthday.
What are your favorite stores? Free State, Blackbird Trading Post, Wild Territory, Goldmakers.
How would you describe your style? Highly accessorized with a lot of hair.
Where do you get your hair cut? Nowhere, I've been whittling my hair away for years by myself.
Favorite trends? Sundresses, big hair, and kerchiefs.
Least favorite trends? I don't really like sports sandals or leggings worn as pants.
Photo Gallery
Style Scout: Emily Robinson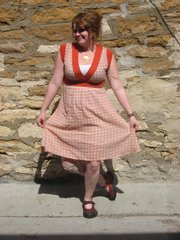 Tattoos/piercings? I have a nose ring, and a tattoo on my left shoulder-blade of a butterfly that I got when I was 17 that I always forget about.
Favorite coffee shop? I like La Prima Tazza because it's delicious, right next door to where I work, and I like the people who work there. I also like Aimee's for their vegetarian biscuits and gravy.
Favorite bar? The Replay, because it is my true love, but I often never make it out of Free State.
Favorite thing about summer in Lawrence? I like it when all of the jerks leave town.
What would you like to see more of in Lawrence? Better healthcare for poor people.
What would you like to see less of in Lawrence? A-holes and D-bags.
Who are your fashion influences? My friends. I guess if I see something I like, I just know it. I'm really inspired by the Virgin Mary, and I like old lady jewelry.
Tell us a secret: I'm actually a very sweet girl.
More like this story on Lawrence.com