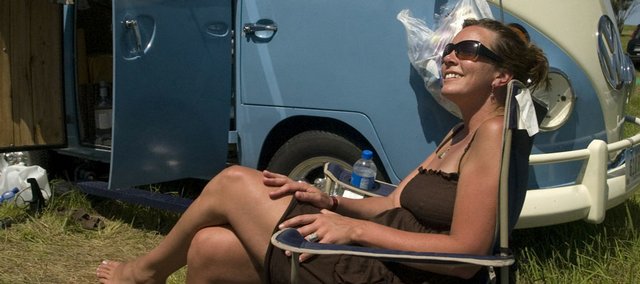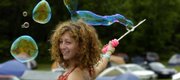 The fifth annual Wakarusa Music and Camping Festival starts on June 5th and runs through June 8th. Organizers are planning on more than 13,500 guests, which would make Clinton State Park the second-largest city in Douglas County until the festival wraps up. See videos, photo galleries, the Wak Talk blog, Best Bets, and more about the Wakarusa Fest.
Photo Gallery
Wakarusa Music & Camping Festival preparations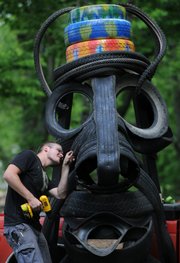 To drive a 1977 Volkswagen Bus from Austin, Texas, to Lawrence costs roughly $130, given today's spirit-crushing gas prices.
That's alarming news for the typical (or stereotypical) fan of this weekend's Wakarusa Music & Camping Festival.
On the event's Web site at wakarusa.com is a forum section titled "Going My Way?" Here, concertgoers from across the nation exchange requests and offers for rides to the four-day festival.
"We were going to rent a car at first, but then we couldn't afford to do that and pay for all the gas," says Conor Graham. "So we bought my friend a ticket just so he would take us."
Graham, a 20-year-old college student from Des Moines, has attended the last three Wakarusa gatherings. This is the first year gas prices have made him rearrange his method of getting there. Now he has assembled a carload of five travelers for the 232-mile trek.
"I really want to see The Flaming Lips. I love the Lips. I'm also excited about Ben Folds. I like him quite a bit," he says.
A quick glance at the abundant postings on the Wakarusa forum reveals how wide a net the festival has cast to ticketholders. Recent ride requests hail from Delaware, Virginia, New York, Arizona and even Montreal, Quebec - in addition to the numerous ones from Colorado, Nebraska and Arkansas.
"I'm putting out the old Waka thumb ... I'm good for my share of gas and associated expenses," writes a Dallas, Texas, resident who goes by the name Jimbo on the forum.
"My only request is that no ax-wielding murders and/or people advertising seven-minute abs apply."
Jon Powell, also a Dallas resident, posted that he had two seats available a few weeks ago.
"I have had a few takers as well as offers for carpooling," Powell says. "However, many of them are either leaving early in the week, or in one instance the people had too much painting equipment to fit in my car. The gas prices are definitely beginning to affect my decision to go or not, and I know of others that are feeling the same way. I hope it doesn't cause the jam scene to dwindle since there is a good portion of fans who travel from city to city in cars."