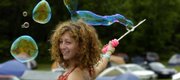 The fifth annual Wakarusa Music and Camping Festival starts on June 5th and runs through June 8th. Organizers are planning on more than 13,500 guests, which would make Clinton State Park the second-largest city in Douglas County until the festival wraps up. See videos, photo galleries, the Wak Talk blog, Best Bets, and more about the Wakarusa Fest.
Audio clips
Wayne Coyne
Past Event
Friday, June 6, 2008, 10 a.m.
Clinton State Park, Clinton Lake, Lawrence
All ages / $49 - $469
Flaming Lips
Coyne rolled the translucent sphere on top of audience members like a hamster that had just escaped its cage. Meanwhile, a stage filled with fans clad in Santa Claus outfits bounced in rhythm as confetti cannons and lasers darted into the night sky.
At least that's what Coyne and the Lips did previously.
"If you saw us at Wakarusa a couple years ago, it would do everybody a great disservice if we wanted to come and revamp the whole thing and say, 'Everything you thought you're going to get, you're not going to get.' It's really the opposite: Whatever you thought you're going to get, you'll get that and more," Coyne says.
"It's like asking Santa Claus what's he going to look like this year when he comes down the chimney. 'Hey, I got reindeer and my suit and I'll bring you some presents.' If we change that too much I'll end up looking like the Easter Bunny."
Coyne still points to the performance at Wakarusa as one of "our triumphant nights" (and it represents one of several musical ties the Oklahoma City band has to Lawrence). But in the grand scheme of things, he says the Lips treat every show with similar intensity.
"I don't know that you can say we're getting better, but there's an element of saying we're going to play this show right now as if this is the last show we'll ever play. Embracing that moment is what we've become masters of," he explains.
Since forming in 1983, the core ensemble - Coyne, multi-instrumentalist Steven Drozd and bassist Michael Ivins - has been rock's go-to act for genre-pushing reinventions. This has been embodied in the studio by the release of "Zaireeka," a four-disc album which was designed to be played simultaneously in four separate CD players, and live by devising the concept of a "headphone concert," in which audience members were given Walkman-type devices that broadcast the show they were attending to offer more stereo clarity.
In fact, the Lips remain one of the rare bands that has seemingly mastered both the studio and live stage with equal acclaim.
"I know that back when we played 'Clouds Taste Metallic' (in 1995), I think we really felt like that was as freaky and loud and intense as a rock band could be. ... In a sense it freed us to do whatever we wanted to because we thought we'd had our day," says the 47-year-old artist.
"As a byproduct of the freedom we had, now we're 20 times better than we were just by accident."
Lawrence recruit
The live show improved even more with the acquisition of Kliph Scurlock, a longtime Lawrence resident who has played drums with the Lips since 2002.
Scurlock initially hooked up with the band a decade ago as an "enthusiastic roadie," according to Coyne.
"He was just one of these guys who would show up at gigs and say, 'You need some help loading in?' We knew he was a drummer, but everybody is a musician. It's not that you don't take that seriously, but it's like, 'Of course,"' Coyne recalls.
Occasionally drummer Drozd would vacate the kit to play another instrument, and Scurlock would sit in. Soon the band began to realize that Scurlock - a veteran of Lawrence acts such as Kill Creek, Slackjaw and Contortion Horse - was quite skilled at the position.
"As Kliph was becoming known as a drummer to us, Steven was glad not to be a drummer anymore. He was wanting to be more of a guy who played guitar and keyboards and got to sing," Coyne says. "We made this transition to the band that we are now in a lot of ways because we had Kliph. I don't know that we would have become this over-the-top rock band if Kliph hadn't joined."
Scurlock, a Topeka native, describes bandmate Coyne as a "nice, genuine, sincere, childlike, workaholic, weirdo genius."
"Wayne has the amazing ability to be able to break down even the most complex things and emotions in a way that anyone can understand," Scurlock says.
Movie magic
Lately, the Lips have seen one of their most complex (and at times frustrating) projects come to fruition.
The psychological fantasy adventure film "Christmas on Mars" debuted two weeks ago, after being in development for eight years.
"On the way home on the plane I was reading an interview with Slash where he was thinking 'Chinese Democracy,' the Guns N' Roses album, would be coming out this year. I got a feeling that instead of the long-awaited film by the Flaming Lips, people were starting to think of it as a stupid joke - like if you can't make it by now, we don't care," says Coyne, who wrote and directed the movie.
But Coyne says he screened the "intense and absurd" project for the honchos at Warner Bros. last week and received a standing ovation.
Wakarusa audiences will also get the opportunity to view "Christmas on Mars," as it will be making its second-ever public appearance at the festival. The band will be setting up a circus tent on the Wakarusa grounds, and the 16mm feature will play three showings a night beginning today and Saturday.
"I don't think it could ever compete with the power of relating to a song," he says of the film. "A song like 'Do You Realize??' really requires that you make a connection to it and you absorb it in a subjective way into your own life. That gives it a lot of power. But a movie is a different experience. It almost turns you off and obliterates you with its story. Then when the movie is done, you kind of turn yourself back on."
Fan favorite
Coyne cites "The Wizard of Oz" and "2001: A Space Odyssey" as the two movies that creatively shaped him the most.
"Christmas on Mars" is like an amalgamation of elements from both films: Midwest meets fantasy meets outer space.
"It plays into the sense that the Flaming Lips come from Oklahoma, and there was a sense (that) Oklahoma may as well be outer space," Coyne says.
That said, few will argue that the Grammy-winning act could be considered anything but down to earth.
"I want to make a connection, especially at festivals where I know people are going to be there for three or four days," Coyne says.
Drummer Scurlock elaborates.
"When Wayne says he loves the audience, it's very obvious that he means it and it's not just some (expletive) rhetoric like when Metallica says it or something," Scurlock asserts. "Or Kiss. Kiss always talks in interviews about how 'the fans' are the most important thing to them and end every show with Paul (Stanley) screeching, 'We love you!' Yet the instant they get offstage, they retreat to wherever with their bodyguards and don't interact with the fans at all.
"Wayne says, 'We love you' and then spends three hours or so talking to people and signing things and taking photos and whatnot. The proof is in the pudding, as they say."