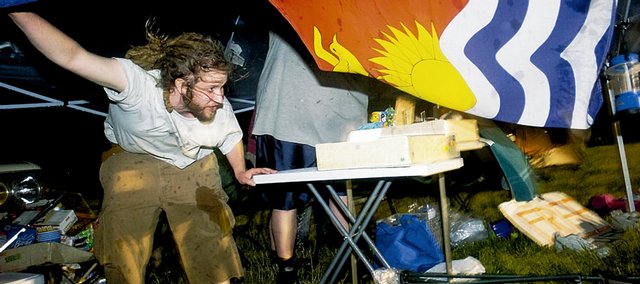 A severe storm moved into Lawrence Thursday night as expected, although it had weakened from earlier in the day in central Kansas.
The storm did cause an early end to the opening day of the Wakarusa Music and Camping Festival at Clinton State Park.
About 7:45 p.m. festival organizers along with the Douglas County Sheriff's Office began to warn festivalgoers to seek shelter where they could.
"Many people have either gone back to their tents or their cars," said Tasha Riggins, the festival's media coordinator. "I've seen some people leave, but most people have gone back to their tents or cars to ride out the storm."
Emergency officials and dispatchers did not report any major damage in the area Thursday night.
Many who drove from out of state for the festival were left to either secure their tents and wait out the storm at the park or scramble to find a place in town.
Dick Schaeffer, of Belton, Mo., said Lawrence-Douglas County Fire & Medical personnel told him he could seek shelter at a fire department.
Mission resident Jeff Millikan, 47, tried to hold down his tent with extra weight: a cooler, a bicycle and more rope.
Katie Maloney, 24, and Caitlyn Morris, 21, who came to Lawrence from Pennsylvania, were frustrated with the lack of options and said they didn't receive much information about safety precautions.
"I don't like it because I was worried about tornadoes and stuff before I even came to Kansas," Maloney said.
On Wednesday, the National Weather Service issued advance warning in the state about a severe storm that could produce an outbreak of tornadoes. Lawrence escaped the wrath of a tornado, but received the brunt of strong winds, rain and reports of pea-sized hail.
By 11 p.m. Thursday, Westar Energy reported nearly 250 power outages in Douglas County. A storm spotter reported wind gusts up to 70 mph two miles north of Lawrence.
"Part of the area did catch tornadoes, and fortunately in the far east here, we did not, other than a few brief things," said John Woynick, a National Weather Service meteorologist in Topeka.
With advance warning, Wakarusa organizers posted signs at the festival entrance for people to be aware of a severe storm and also handed out fliers with ways to stay informed and what they could do.
After the storm had passed, festival organizers and the sheriff's office were assessing the situation to see whether the concert could continue Thursday night, but lightning was still being spotted. Riggins said she didn't immediately hear about any weather-related incidents.
More like this story on Lawrence.com