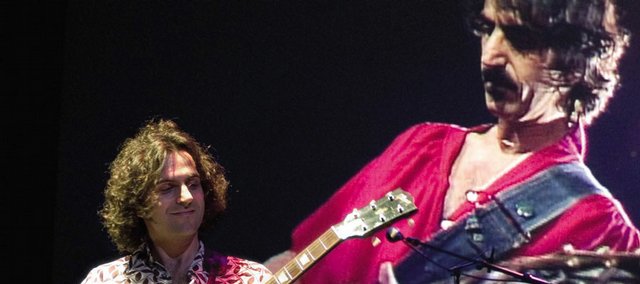 Audio clips
Dweezil Zappa
Dweezil Zappa has been obliged to respond to two questions his whole life:
1. Yes, that's his real name.
2. Yes, his father, Frank Zappa, is sadly overlooked by today's generation of music fans.
So the 38-year-old guitarist decided to do something about the latter one.
Two years ago he launched the live concert act Zappa Plays Zappa as a way to honor the music of his legendary dad, who died of prostate cancer in 1993.
"I'm trying to give people an opportunity to hear Frank's music unadulterated," Zappa says. "We make every effort to play this stuff note-accurate."
Zappa went about recruiting a seven-piece group of younger musicians who could recreate these eclectic, meticulous, one-of-a-kind compositions for a new generation of listeners to appreciate.
Q: Are you performing in what is essentially the most challenging cover band of all time?
I would say that's accurate. I didn't write this music - my dad obviously wrote it all. But I grew up listening to it, and it means a lot to me, so I want younger people to be exposed to it. I just don't think they have any idea what they're missing. But to do it right is a huge challenge. You have to be really good at what you do to play this stuff. You can't fake it. There's nothing that's coming back and being played by a computer or off a tape. It's all really being played by people. And we focus on some of the hardest stuff Frank ever wrote.
Q: What's been the reaction from hardcore fans of Frank Zappa?
A: I knew it would be easy for people to dismiss this and say, "Oh, he's just going to put a band together with former members of Frank's band, and they'll go up there and do 'Yellow Snow' and 'Montana' and all the easy songs and get out of Dodge." But we did the opposite. I purposely did not put a band together that was filled with Frank's former band members. In fact we play some things Frank never played onstage at all. But we play the original album versions, which is another thing he didn't do very often.
Q: I understand Frank has made posthumous appearances with you thanks to video technology. Can you explain how that is accomplished?
A: We actually had some footage that had not been released - a version of "Cosmik Debris." What we had to do was get the video footage that had separate audio. We had camera angles that we had edited together so that focused only on Frank. Then we had the separate audio for his vocal and guitar. Then we built a click track that went along with the original performance. Our drummer hears that in his in-ear monitors, then we play to the drummer. Then voilá, we're in sync. The interesting thing about it is it's a cool thing to see, but to actually listen to it after the fact is another level. You'll hear that's a song that we just played last night, and Frank is on it. It sounds like it might as well be 1974. To be able to include that and create the same texture and timbre of instruments creates a time machine effect.
Q: Did you and your father ever have any musical disagreements?
A: How can you have a disagreement with someone who has an open mind and so much to offer? I was glad that I was exposed to all the things that he was working on or listening to growing up before I heard any other popular music. It gave me a real foundation and some discernment when it came to the quality of things.
Q: What's the best cover version you've heard of one of your own songs?
A: I've never hear anybody cover one of my own songs. I don't think my own music is well-known enough for anybody to want to cover it.
Q: What's the status of your guitar piece "What the Hell was I Thinking?"
A: "What the Hell was I Thinking?" is in flux. The craziest thing about it is it started as a project because I randomly decided I wanted to do a 22-minute song. As I put those elements together, it grew and grew until it was long enough that I should make it the entire length of a CD, which is basically 74 minutes. The whole structure of that thing became a joke. I put all these different guitar players on it (such as Eddie Van Halen, Angus Young and Brian May), and it's almost like a Guinness Book of World Records thing because there are 40 players on it. It's a continuous piece of music that is every style of music known to man. ... I do plan on trying to finish that thing in the next couple of years. I haven't had any time to work on it for a while. ... I still have a few people I want to get on there: Jimmy Page, Jeff Beck and a couple others.
Q: You're one of the headliners at the Wakarusa festival. Have you ever played in Lawrence before?
A: No. I'm not sure I've been to Lawrence, Kan., to be honest. The thing is, wherever we go, people who come to see this music generally have the same appreciation of it worldwide. We've never gone to a location and found that people didn't get what was happening.
Q: Did you know your "ex-bandmate" Don Johnson went to school here at KU?
A: Ha. I haven't seen him for a while. People are always wondering "how and why you played on (Johnson's solo record)." The funny thing was is he used to date one of my mom's good friends. So when we were real little he was around a bit. Then he got real popular with "Miami Vice" all those years later. Frank actually did a guest appearance on "Miami Vice," and Don made a record and said to me, "Why don't you play on it?" I was 17, and Stevie Ray Vaughan played on it and Bonnie Raitt played on it. I thought it would be fun. Then the video that got made to (the single) "Heartbeat" is now hailed as one of the worst videos of all time. I guess that's also another thing to add on to your list of accomplishments.
Q: I'm sure you always get the question what's your favorite Frank Zappa song. Instead I'm going to ask what's your favorite Frank Zappa song title?
A: There is a really good one from the album "Playground Psychotics." It's from a live performance, and it's perhaps the best title because it's called "A Small Eternity with Yoko Ono."