The week after Wakarusa is a difficult time. The colorful stream of festival goers has come and gone, leaving those without enough funds for the next party to languish on the sidewalks and back alleys of downtown Lawrence, panhandling, tending to large canines and strumming the three remaining strings on their guitars.
Fortunately, I've come up with a few alternative affairs to ease the comedown from Wakarusa Fest and help generate some additional revenue and publicity for the Lawrence community. The only catch is, they all have to more or less rhyme with Wakarusa.
I had a lot of fun with this, but I'm only including my favorite 10 festival ideas for now, along with an extra 10 some friends came up with. Naturally, your own ideas for Wakarusalternatives are welcome, so don't forget to chime in on the comments section. In the spirit of festivals, the more the merrier.
Wetzel's Short List:
Tacorusa
A giant taco-feed, open to people of all ages, creeds and cultures. Not to be confused with Guacarusa.
Spockarusa
A bunch of people dressed like Spock and/or naturally resembling Leonard "Party Long and Prosper" Nimoy
Glockarusa
The most dangerous of all 'rusas
Jockarusa
An attempt by the KU Athletic Department to draw attention to sports instead of hippie culture, promoted with the slogan, "Don't get high, get in shape!"
Iraqarusa
A portable version of Wakarusa Fest, taking place at various military bases throughout the occupied regions. Like the real thing, only thousands of miles away and without all the long hair and frivolity
Wild Bill Hickockarusa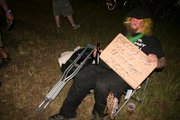 A celebration of the fastest draw in the Wild West
Cockblockarusa
A sorority party in which nerds arrive first and flirt with surprising success, only to be interrupted and outmaneuvered at the last moment by more socially adept jock-types
Tony La Russa
A marathon screening of all the World Series the famed MLB manager has been a part of
Hemlockarusa
A celebration of the life of Socrates, with a reading of his works followed by a ritualistic (mock) suicide
Chicken Pockarusa
A sad assembly of blemished primary-schoolers
Other contributions (so far)
Waka Wakarusa
Muppets galore. Not sure what the bands would sound like, though Animal would definitely be playing drums
Wokarusa
(of the same pronunciation), a giant Japanese cook-off using only a Wok to cook your favorite Eastern dish.
-- Jenny B
Cockrockarusa
Ratt, Warrant, Cinderella, Skid Row: this is the only festival where fans of these bands can get together in a big, open space and trade their CDs, cassette tapes, and spandex for three days of intense cock-rock bartering! Anyone caught trafficking in merchandise unrelated to cock rock will be asked to leave. Those who show up expecting to see these bands will be directed to the nearest county fair.
HitchcockarusaPalooza
A celebration of everything Hitchcock! The legendary director Alfred Hitchcock, the Soft Boys front man and solo artist Robyn Hitchcock, Civil War general Ethan A. Hitchcock and former Nebraska senator Phineas Hitchcock will be celebrated alongside other notable Hitchcocks. Hitchcock-persons -- for instance, Australian singer and actress Carol Hitchcock -- will be exulted alongside non-human Hitchcocks, such as the town Hitchcock, Texas or Lake Hitchcock in Connecticut. It's HitchcockarusaPalooza!!
-- Jeremiah T
Proctorusa
Gather together to adminster standardized tests without those pesky test-takers.
Popandlockarusa
For all those Kansan hiphop dancers
-- Joe P
Soviet Blocarusa
The antithesis of the consumerist festivals we've come to know and love. You've been to Comic-con, why not try Commiecon? Held annually in December, this event consists of long lines, even longer lines, and one giant stage. Includes big name performers like Reanimated Brezhnev and Billy Joel, who will perform (Iron) curtain call after (Iron) curtain call until the masses are either satisfied or revoltingly not so. Can't see? Climb up on that tank for a better view. Watch out for the mist tent, which sometimes sprays suspiciously red-tinted water.
J.S. Bacharusa
Sure, you've heard the Brandenburg concertos. But have you ever heard the Brandenburg concertos while holding hands and skipping in a field with a topless body-painted princess named Andromeda, hopped up on Diazepam? This is your chance. Reinvent yourself to the Inventions! Party to the Partitas! It's balls-out Bach!
Ad-Hoc-arusa
The committee to end all committees. Make sure to stick around for the disbanding.
Wiki-rusa
Pop in your wireless card and go. Every night in my room, circa 10pm. Doesn't stop 'til the break of dawn.
So there's just a few to get you started. The rest is up to you. Stay tuned for a follow-up list of the best reader-provided ideas.