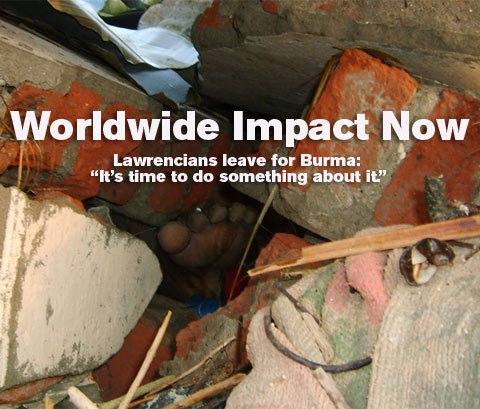 One day this past May, a 28-year-old hairdresser named Julie received a phone call from Tim Heinemann. Said the retired U.S. Army colonel to the stylist: "I need your help."
So, Julie quit her job, started using an alias (we'll keep calling her Julie, though) and recruited Lawrence residents to help with Cyclone Nargis relief in Burma (also known as Myanmar*).
Julie's in a group of four locals going to Southeast Asia with Heinemann's nonprofit organization called Worldwide Impact Now. A pseudonym helps her avoid Burma's regime-controlled government. Think she's paranoid? Keep in mind: she's been conspiring with those that the government regards as the enemy.
Heinemann and Julie go way back. Julie describes him as "Dad number two," the father of her best friend. He's been in Burma for about four years helping provide relief to its citizens. He's wanted by the government. His phone line is tapped.
Photo Gallery
Lawrencians in Myanmar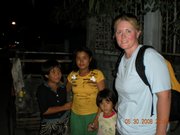 In spite of Burma's annoyance with a single aid worker, Julie and the other Lawrencians will help Heinemann by facilitating humanitarian relief and reporting human rights violations in the country.
It's a complicated situation for aid workers in Burma. The country didn't allow foreign relief until three weeks after Cyclone Nargis, which left more than 100,000 people dead or missing. Many aid workers (like those with Heinemann's nonprofit) stay in neighboring Thailand and cross the border by day. Some days aid workers are allowed into the country. Other times, they're turned away.
"If the government can't do anything about it, the next best thing is for one person to make a step forward," Julie says.
Mindie Dodson, one of the four Lawrence residents helping with relief efforts, stays with other relief workers (in an undisclosed location)*.
The control
Originally ruled by a set of dynasties, Burma was a British colony until 1948. Since the British withdrawal, the country has been controlled by a military regime that demonstrates oppression, isolationism and exploitation of resources.
The moneymaker
Burma teems with natural resources. A good chunk of the profits from gems, natural gas and oil fund the junta. A 2008 EarthRights International report (PDF) showed that Chevron-operated oil fields and pipelines provided nearly a billion dollars to Burma's military regime last year. Just one more reason to ride your bike.
The squall
Cyclone Nargis, which made landfall on May 2, 2008, claimed more than 100,000 lives. The UN says that a million people may have been displaced by the storm. DigitalGlobe satellite images (PDF) show that the land has been drastically altered; many farmers have missed their rice harvest because of flooding and erosion.
Dodson says the Burma government has forced its citizens to leave refugee camps and return to their villages, which are flooded with water and filled with failed crops and decomposing bodies. Residents have caught fish only to find human fingers within the carcasses. Drinking water remains scarce, she says. Waterborne diseases have set in. Soldiers force young women to have sex with them for food.
"I hope the world will see how long humans have been oppressed in this region," Dodson says. "It's time to do something about it."
Julie and Dodson know the horrors combined by a devastating cyclone and a military regime. But they're sanguine on one sentiment: even when a government neglects its citizens, a few people can make improvements in dire situations.
"I'm trying to keep an optimistic attitude about it," Julie says. "There are so many people who are quick to do a bad thing-I wish there could be balance."


Note: After this article's publication, several minor edits were made at the request of the subjects of the story. None significanted affected story, perhaps with the exception of the note below, received from Heineman-ed.

*Use of the term Myanmar. Myanmar is a racist term that means "Burman ethnic". It excludes all non-Burman ethnic groups. It is like calling the United States "White people land". This is why the US Government and others refuse to acknowledge the name of this illegal government, as well as the government itself. The facts are that non-Burman ethnics settled the region over 2000 years ago well ahead of Burmans, how arrive centuries later. The term Myanmar is offensive to the whole pro-democracy movement.