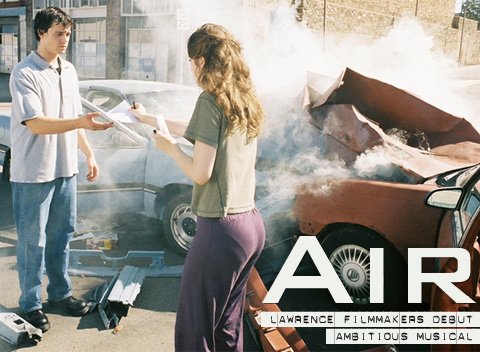 Through A Glass Productions, started by KU film school grads Chris Blunk and Jeremy Osbern, bucks the coastal migration habits of much of Lawrence's cinematic talent. "We started a company to produce films in the Lawrence/Kansas City area," says Osbern. "We do commercials and music videos during the day and work on movies the rest of the time."
Their first feature film, "Air," is just as stubbornly unorthodox as their decision to remain rooted in Kansas. "Air" is an unironic musical with its heart on its sleeve, following a trio of lovelorn couples in various states of emotional dissonance as they collide-sometimes literally-in a constantly humming, symphonic world. A young songwriter breaks up with his girlfriend, two middle aged lonely hearts make a connection at a country bar, and a pair of social misfits awkwardly attempt romance while song and dance swirl around them all.
Jeremy Osbern, who wrote and directed "Air," spoke with us about filmmaking in Kansas, faux hawks, and really tight dresses.
lawrence.com: A musical is pretty ballsy for a first feature-length film-how long did it take to make?
Osbern: We made it over the course of three years. We'd raise money up until we could go out and shoot another portion of the film, go out and shoot a few scenes, then work on post production. I initially had this idea of a modern musical back in high school when I saw some random, probably drunk punk singing in a back alleyway. That piqued my interest for a story and it kind of germinated. After I graduated college, I sat down and wrote a feature-length screenplay where part of the story was told through music. I happened to live next to a very talented musician, Steve Unruh, while I was in college. He and I became friends and I pitched the idea to him, and we went from there.
The soundtrack features everything from a country line dancing number to a high school marching band/punk ballad-what is the process of you as a filmmaker working with Steve as a composer?
The screenplay was written so it would say "At this point this character sings a song, and here's the general idea they're conveying in the song." Steve and I would then talk about the genre of music we saw for that song and brainstorm on songs that were similar to what we were thinking. He would then sit down with that character and their story in mind and write the music.
Were you aiming for a modern day "Xanadu"?
No.
How about "Sgt. Pepper's Lonely Hearts Club Band" with the Bee Gees and Peter Frampton?
Possibly.
What are some of the indie movie cliches you wanted to avoid for you first feature, be they Kevin Smith-style vulgarity or Quentin Tarantino-style violence?
From the outset-and it wasn't so much a conscious decision-the story we wanted to tell just happened to not be an over-the-top vulgar type of film. So far that seems to be working in our favor. The audiences that have been responding to it have ranged from junior high kids to 90 year olds.
What are some of the influences that you used for this film?
For this film in particular, we tried to give subtle nods to musicals of the past-some of them good, some of them not so good. Personally, for Chris Blunk and I, one of our favorite films is "Singin' in the Rain" with Gene Kelly. We have homages to "Singin' in the Rain" throughout "Air," but there are references to other movie musicals that are probably too subtle for anyone to get. They're kind of little in jokes for us, peppered throughout.
"Air" won "Best Feature" at the Kansas City Filmmaker's Jubilee-what are some of the advantages and disadvantages of submitting your film to a festival?
I think it is a very important part of the filmmaking process to go to film festivals and meet other people in the industry. You can grow from that as a filmmaker, especially just by watching all of the movies that are there. There's no better way to be inundated with 100 new ideas in a week than by going to a film festival.
One of the first screenings was in tiny, rural Newton, Kan.-where the composer is from-how did that go over?
The people that came out loved it. A 90-year-old woman braved a storm that day to come out.
Old people love musicals.
And the kids love the faux hawks.
Dylan Hilpman's hair in the film was an impressive technical feat-were those extensions?
Early on in the preproduction, we took Dylan and Jennifer Coville and dressed them in a lot of different clothes and styled their hair in a lot of different ways. We were playing around with Dylan's hair and it ended up in this faux hawk. He started laughing and saying it was the most ridiculous thing he'd ever seen. I told him he'd have to live with it for the rest of the movie.
What are the origins of the-now infamous-duct tape dress Jennifer Coville wears in the film?
The Donnie and Cathy characters are both quote/unquote "alternative kids." There's one scene where they get dressed up to go to a concert, and one idea I had with the costume designer, Summer Moore, was to make a duct tape dress. Jennifer had to be squeezed into it, taped up, and then cut out of the dress every time she changed clothes. It's a very tight-fitting dress and Jennifer is a very beautiful woman, and numerous people have made comments about that scene in particular.
Even though it's a musical, it's a fairly melancholy film. Is that what you set out to achieve, or did it just end up that way?
One of the things we tried to achieve with "Air" is that the states of the characters' minds are shown physically. Characters go through extremes in the film, be it melancholy or anger, and we show things around them literally falling apart. There's one sequence in particular where a couple is happy and in love, so we show everything in their neighborhood working in rhythm. Later, when they break up, everything comes crashing down and cars are screeching to a halt and things are breaking. We tried to show that the world can physically fall down around us, but come back together when we're with the person that we're meant to be with.
Speaking of those physical manifestations, how did Pachamama's feel about you setting it on fire and then flooding it?
We shot a portion of the movie on location at Pachamama's in Lawrence, and they were incredibly helpful. We ran by everything that we were going to do and they were great to work with. We had very carefully choreographed pyrotechnics, where we had small fires that were well controlled. We brought in our own sprinkler system, hooked up hoses that would go off and look like a sprinkler system then land in giant kiddy pools we had throughout the restaurant.
What is the state of Lawrence filmmaking?
This is a movie we made all over the state of Kansas. We shot in Lawrence, Kansas City, Topeka and Yates Center, KS. It was a movie that was made with the help of people all over the state, and it's really in a lot of ways a love song to the state of Kansas. I grew up here and am staying in Lawrence wanting to make movies here. This is our first feature and we hope people respond to it. I think there is definitely a strong filmmaking scene in Lawrence. At the moment, we're pretty interconnected-Patrick Rea is another filmmaker that's done a lot in the area, and we worked on "The Empty Acre" with him. Kevin Willmott is making movies in the area and we've worked on his films. I think it's a strong scene and it's growing. I'm excited to see where it goes.