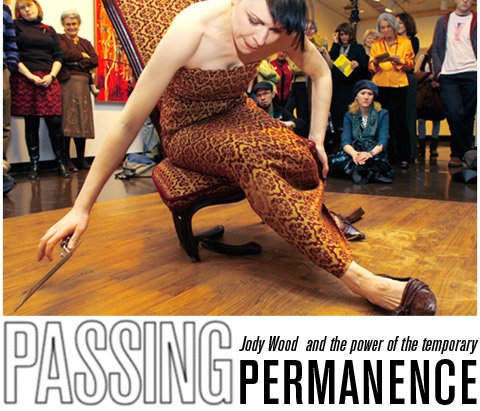 You can tell a little about Jody Wood's disposition toward her art from the way she handles her air mattresses made of pig intestines.
Removing one of the two brittle mattresses from a corner of her studio in KU's Art and Design Building, she handles it not exactly gently, like most people do with a piece of art they once slaved over.
"These things are funny," Wood, 27, says after propping the mattress against a wall. "They'll shift around. If you lean them up against something, in a few days they'll bend and sink a little bit. That's one thing I kind of like about them."
She made the mattresses about a year ago, back when she was heavy into pig intestines. A semester later she got fixated on chairs. There were all sorts of chair experiments, like when she put two chairs in a burlap sack and threw them in the Kansas River to see what they'd look like when she fished them out a few months later.
(In the overlapping period between pig intestines and chairs, there was a failed attempt at making a chair of pig intestines. "The smell was interesting, but she's very good about cleaning up," says her roommate and fellow art graduate student Minerva Ortiz.)
She also got into facial expressions last year. She set up a smile stand on Mass. Street and videotaped people holding their biggest smile for as long as they could, then projected 32 of the resulting videos onto a wall.
Photo Gallery
Passing Permanence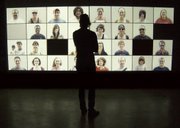 Recently she and Luke Jordan, a lecturer in design at KU, created an installation in which they projected a loop of minute-long videos of people trying to remain expressionless. After watching the installation, viewers went to the other side of the screen and were taped, their faces becoming part of the loop the next day.
Wood has little to show for much of her work. Some of it is on her computer. Some of it is here, in her office, but it's kind of ethereal, like the pig gut mattresses, or it seems incomplete, like the mud-caked chairs. She isn't into stuff that lasts.
"It feels more right to me that I would have nothing to show for it," she says, and laughs, "than a studio full of huge objects or something. That really bugs the crap out of me. If I am talking about transition and impermanence, and I have this permanent metal sculpture, what is that really saying?"
¢¢¢
In March, at the opening of a month-and-a-half-long exhibit at the Spencer Museum of Art called "Resounding Spirit: Japanese Contemporary Art of the 1960s," she sat down in a wooden chair with a hacksaw in her hand for what would be the climax of her chair fixation.
It was a fixation that had begun months earlier, in the fall, when she and her boyfriend of about five years separated after a serious relationship.
"This person was my support in every way," she says. "Being that close to someone and then suddenly having them absent from your life-we would go to counseling and we would try to put it back together, but it just wasn't working. It was this drawn-out process that I think every breakup goes through a little bit."
She had wanted out in the end, she says, but the change was hard and abrupt. After the breakup, she went into her garage and began destroying a chair. She set up a video camera and would spend hours and hours sanding the chair down, whittling it away, sweeping away the shavings and starting again. Her idea was to edit the footage into a stop-motion video showing the chair dissolving into nothing.
She had started destroying the chair as a cathartic act, but as she continued sanding it down the work gave her time to think about what drew her to the project, to this empty chair. "It represented a lot to me about absence and loss of a person," she says.
Halfway through the destruction of the chair, she had a thought: "This is about me. What if I'm in the chair? What if I'm destroying the chair while I'm in the chair?" She scrapped the initial project and quickly designed a new one.
At the end of the fall semester, in a room of the Art and Design building, she sat on a self-upholstered chair in a dress made to match with a hacksaw in her hand.
With Professor So Yeon Park videotaping and students wandering in and out of the room, she began sawing off the legs of the chair, one by one. She'd crash violently to the floor each time a leg broke from the chair, then prop the chair back up atop the severed legs, sit back down and saw the next leg out from under her, crash-one, two, three, four.
Past Event
Friday, June 13, 2008, 7 p.m.
Lawrence Arts Center, 940 New Hampshire St., Lawrence
All ages / Free
The performance took 55 minutes in all. She called it "Sever and Repair." (A video of the performance, edited down to four-and-a-half-minutes, will be shown June 13 at the Lawrence Arts Center as part of a showcase of local video art.)
In March, with a new chair, a new dress and a new saw, she would sit down, this time nervously, before a crowd of people in the Spencer, for Act Two.
¢¢¢
The pig gut mattresses, the videos of faces, a purse made of dry meat hanging from one wall of her studio, a woven mat of hair pinned up with clotheslines farther down the wall:a strong, and sometimes grotesque, fascination with the body runs through Wood's work.
After her first year of high school, her father, a mortician, moved their family from the small town of Cottage Grove, Ore., to another small town in Idaho called Payette, where he had bought a mortuary and a cemetery.
Living in a house on the cemetery, she and her brother would sometimes help their father dig graves during the day and play tag among the headstones at night. As she became more curious about her father's profession than she'd been when she was younger, he'd let her watch as he worked with the bodies.
"He did the make-up on them himself, he embalmed them, he drained the blood out of their veins and filled it back up with formaldehyde," she says. "One woman had cancer in her head and it had dug out a whole hole, so he would have to take this putty and fill it in."
In high school, she got really into Biology 2 class.
"We did all kinds of things in this class," she says. "The teacher took us out to the Oregon coast and we went deep sea fishing. We collected sea creatures and looked at them. Then we had this week where we put all of our books aside. He wanted us to get roadkill off the side of the road and bring it in to class and cut it open and take out everything on the inside and put the skin around this foam thing and dry it out.
"It was just this really interesting process, I think, that I liked, because it started off as this dead thing and then-it was just such a visceral process and it was so unrelated to equations or books. It was really tactile."
She headed to Seattle Pacific University in 1998 aiming to major in biology, but soon figured out most of the biology classes involved a lot less taxidermy and a lot more equations and books than she was game for.
She started working toward a major in English, taking painting and drawing classes on the side. She describes herself as a pretty average art student. Then she took a metals class, the first 3D art class she'd taken. "The possibilities just opened up," she says. She started incorporating other materials into her metal sculpture, and eventually ditched metal altogether for fleshy things like wax and gut.
After graduating, she got a job working the cash register at a jewelry store and then did graphic design contracting work for Hewlett-Packard for a while. With her metals teacher's encouragement, she applied and was accepted for a yearlong residency in sculpture at Pratt Fine Arts Center in Seattle. The idea of grad school, which had been creeping into her mind, solidified.
¢¢¢
During her first semester at KU, in fall 2006, Wood got the notion to do a community art project. Setting up a video camera and a small salon in the basement of the Lawrence Community Shelter, she offered homeless women free makeovers and interviewed them about the difficulty of maintaining beauty while living on the streets.
"I tend to jump into things, following my little blind intuition and saying, 'I need to work with homeless people. I don't know why. I need to work with women and do their hair,'" she says.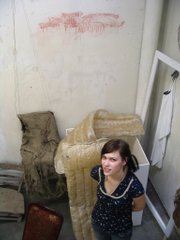 Arriving in Lawrence to earn her master's degree in sculpture, it hadn't taken her long to stray into something different.
She had never done a community-based project before, and had never worked with a video camera either. "It was a little bit of a mess," she says. But it was through the project that she met So Yeon Park, an assistant professor in expanded media at KU who specializes in community-based art projects.
At a seminar, Park recalls, she saw Wood's presentation on the project, and didn't hold back her criticism. "After that day, I thought she was never going to come to me," Park says with a laugh, "because that was our first meeting."
A serious community-based art project, Park explains, typically requires months and months of preparation with the community and a level of depth that Wood's project lacked.
"She was helping them up, making them feel good about themselves," Park says, "but the way she took the photographs, and the arrangement of the display, it was kind an instant transformation rather than a long-term transformation."
Instead of being put off by Park's criticism, Wood switched from sculpture to expanded media and began working on smaller-scale interactive projects like "Unnatural Smile," the installation in which she recorded people holding a smile.
She still likes sculpture; a 24-ounce plastic yogurt container filled with pig guts sits on the desk of her studio, and she says she might start working with it again. But at the moment she's more into interaction.
"Sculpture has a different function. It's real. It's right there in front of you. You can look at it. You can touch it. But there was something about sculpture that wasn't enough for me. It wasn't feeding me everything that I needed," she says.
"It just started feeling absurd after a while, creating all these objects. What am I going to do with them? Do they serve a purpose? Not really. Am I just going to accumulate all of these things that I've made and show them to people? It seemed a little bit pointless to me. There was something else that I needed from art."
¢¢¢
Stepping out of your studio and away from the confines of sculpture can take you to some weird places, like a pristine gallery of the Spencer Museum of Art, surrounded by a crowd of people and walls adorned with expensive Japanese paintings, getting ready to saw.
Then your saw doesn't work well because you're using a different kind of chair than you did last time and the wood is thicker. And Kris Ercums, curator of Asian art at the Spencer, asks you to be done in 45 minutes, which is 10 fewer minutes than the performance took the first time. So you take the plunge and start sawing.
People watched as she sawed a little too hastily because the wood was so hard. The first leg broke off and she tumbled to the ground. After she'd managed to saw three legs off, she had a hard time keeping the severed legs under the chair for long enough to cut the fourth one. She'd fall, get on her knees, balance the chair until she got the detached legs back in their original positions, stand up, and carefully sit. The chair would collapse again.
In "The Psychology of Hope," Ezra Stotland wrote, "Even more than suffering, persistency depends on the time perspective of the individual. As long as there is hope that the difficulty may be overcome for that price in effort or pain which the individual is ready to pay, she goes on trying:" Wood included this in her artist statement for the piece.
At one point, as she went on trying, falling hard and getting back up, an astonished woman turned to Ercums, he recalls, and said, "This is actually what we do, every day, in our lives."
Finally, she sawed the fourth leg off and fell for the last time. She tried in vain to stand the chair back up, the final part of the performance, before getting up and walking off the platform, heading somewhere else. »