Caramel Walden
Age: 22
Sign: Scorpio
Hometown: Shawnee
Time in Lawrence: four years
Occupation: Rudy's counter girl, waitress at Slow Ride Roadhouse, and nude model
What were you doing when scouted? Drinking an Americano at Henry's, because they were out of cold press.
Favorite places in Lawrence? The river, front porches, The Casbah Market, Social Service League, and Mickey's Surplus in Argentine.
How would you describe your style? Hillbilly from hell meets Dora the Explorer.
Where do you get your hair cut? Janine from the Hidden Jewel on 12th and Haskell, and myself.
Favorite trends? Jumpers, overalls, cowboy hats, combat boots, and self-altered clothing.
Photo Gallery
Style Scout: Caramel Walden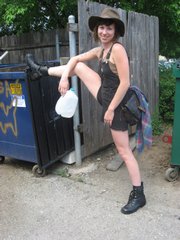 Least favorite trends? Stiletto heels and overpriced backwoods camping gear.
Tattoos/piercings? I have two nose rings and an owl tattoo on my shoulder that was done by Roxy at Freaks on Broadway.
Favorite coffee shop? Henry's, obviously. I like to socialize with the people I like, and the baristas are personable.
Favorite bar? SLOW RIDE ROADHOUSE!!! Just kidding, everyone sees my ass at the Replay.
What would you like to see more of in Lawrence? More D.I.Y. venues, people on bikes, local stores, food from gardens, and bonfires.
What would you like to see less of? Asshole seasonal panhandlers on Mass. Street.
Who are your fashion influences? Dennis Abbott, the fashion king. Cowboys, and Old Dusty Britches.
Tell us a secret: I have a big hickey from my boyfriend Wiley.