Mike Fredette
Age: 32
Sign: Virgo
Hometown: Woonsocket, R.I.
Time in Lawrence: four years
Occupation: Teacher in Kansas City, Kan., and occasional DJ
What were you doing when scouted? Taking a walk and listening to "Lost Johnny" by Hawkwind.
Favorite places in Lawrence? Love Garden, Kief's, The Raven, The Dusty Bookshelf.
How would you describe your style? Rock and Roll.
Where do you get your hair cut? Brad at the Green Room cuts it.
Photo Gallery
Style Scout: Mike Fredette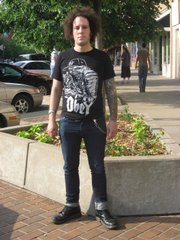 Favorite trends? Slim-fitting jeans. On women, I like tank tops and bright-colored headbands.
Least favorite trends? Crocs and collegiate apparel.
Tattoos/piercings? I have a bunch of 'em, all were done at Federal Hill Tattoo in Providence, R.I.
Favorite coffee shop? Starbucks...so sue me.
Favorite bar? The Replay Lounge...I love everything about it. It's my favorite place in the whole country.
What would you like to see more of in Lawrence? More rock and roll DJ events, and more rock, punk, and metal bands.
What would you like to see less of? Less people reading the same books as everyone else, like "The Da Vinci Code."
What's your favorite Lawrence summer activity? I love walking around downtown, and DJing outside at the Replay.
Who are your fashion influences? Bob Dylan. Marc Bolan. Really anyone from late '60s and early '70s rock bands that has mutton chops and an afro.
Tell us a secret: I'm not athletically inclined at all.