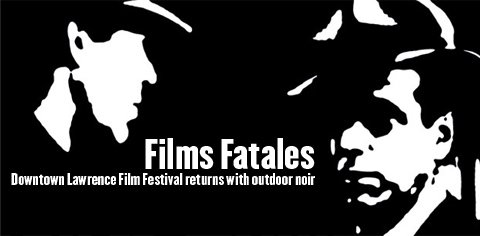 Ah, summer-the monarchs are returning, the children frolic gaily at the pool, and crime movies dripping with post-war tension featuring protagonists of moral ambiguity and women of predatory sexual proclivities are projected on the side of a parking garage in downtown Lawrence.
Yes, the Downtown Lawrence Film Festival, after successfully debuting last year to overflow crowds of 200 to 400 people per screening, will be bringing another series of classic hard-boiled flicks to the lot at 9th and New Hampshire.
Jane Pennington, director of the not-for-profit Downtown Lawrence Inc.-which puts on the fest-joined us to talk about this paean to pulp.
lawrence.com: You're sticking with the noir theme-why not branch out into other genres, like a Cheech and Chong retrospective or torture porn's greatest hits?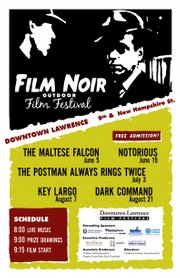 Pennington: We in fact did a survey last year, getting suggestions for what we might branch out into, but we decided to stick with film noir. Next year? Who knows what it will be. We're partnering with Parks and Rec., so there'll be family friendly sorts of things. Torture porn is, I don't think, ever going to be on the bill.
Based on some of the reaction to the Wilco concert, which happened in the same location as the Film Festival, isn't it just a bad idea to have so many people at an outdoor gathering who are having fun in a safe environment?
Well, we have not heard a single negative thing. Everyone is just thrilled to have it going on and it's just a great opportunity for families to get out.
What happens in case of inclement weather? Are people encouraged to bring their own fedoras and trench coats to both beat the rain and keep in line with the noir theme?
I think fedoras and trench coats would be good, but because of the equipment we're not able to do it if it's raining. We have booked the Arts Center for one of the nights as a backup, but they were busy every other night. We may look into rescheduling in case of rainout next year, but for this year we'll just cancel.
Between this and the Wilco show, should we just keep that space an intersection of vacant lots?
From my perspective, I would love if it never got developed, but the owners obviously have a financial interest in it. They've been very receptive to hosting events there, however.
Past Event
Thursday, June 19, 2008, 9:15 p.m.
Downtown Lawrence, Lawrence
All ages / Free
How important would you say these social and artistic events are to the well-being of downtown Lawrence?
I think they're tremendous, particularly the things like the Ironman Expo, where there were 1,500 athletes and their support crews coming from all over the world. That's a big economic boost. The smaller things we're doing are great because it gets people downtown and it reminds them of what a great place it is-anything we can do to bring people downtown. A lot of people have this mental barrier about coming downtown if they live out west, like, "Oh, that's so far away." We plan these things to remind them that it's easy to come and it's easy to park and it's a lot of fun.
Lastly, and perhaps most importantly, will there be free popcorn again?
Absolutely.
Free booze?
No free booze. It's an alcohol-free event. We do have the guy who has the little hotdog cart, though. »