"Images are more demanding than ideas."
--Gaston Bachelard, The Poetics of Space
The wheat hangs heavy, white and ghostly, upside down. When it's fired, it will be hollow, standing upright as a brittle indicator of what was inside. Wheat, of course, is Kansas. Or the memory of Kansas. Artist Jennifer Holt is leaving town soon.
"My work goes back to time, and how we experience the world," Holt explained. "We move forward in time, but we're always traveling back in our minds. We live in the present, past, and future all at once. It's about the phenomenon of how we experience art in everyday life. The preciousness of our own experiences that we've had in the past."
Holt's upcoming exhibit, Vernacular, is the end-product of her artist's residency at the Lawrence Arts Center, where she's been based in the ceramics studio for the last year. She's sharing the gallery space with the LAC's printmaking resident Brian Stuparyk, who also looks to everyday objects for inspiration. The show opens June 27.
LAC residents generally choose solo shows for their year-end exhibits, but Holt and Stuparyk recognized their similarities could play off their differences in an interesting visual dialogue. "Brian and I decided to install the exhibition in one gallery because of the common thread that runs between our work: The meaning and value-from the good to bad, contemplative to ridiculous-that we find in the everyday," Holt said.
Photo Gallery
Jennifer Holt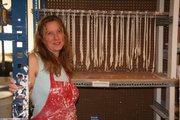 If all goes according to plan-the "if" in ceramics being a bit more emphatic than with other mediums-the massive LAC gallery will be transformed with a wheat field, umbrellas suspended from the skylights, and negative plaster molds of everyday objects, like paper coffee cups. Water will rain from the ceiling.
Holt is a cerebral artist. Her work is simple in appearance, but high in concept and attention to the material. In conversation, she cites French philosophers, writings on Minimalism, and obscure artistic terms. She seems an artist who could easily alienate viewers with all the heady stuff she's conveying, but instead her place-specific, everyday images make accessible connections.
She refers to her work as "memory traces," the objects left behind that retain the presence of the person who once used them. It's a concept explored by rationalist philosophers like Gaston Bachelard, who argued that the connections people had with their former homes is rooted in lived experience, and that memories are "fixed in space."
"I think that the objects that I make are of things that are old and worn, and have the human presence left on them," she said. "That in and of itself is an influence I try to freeze frame."
Holt's objects are all a ghostly white. The absence of color will evoke an ethereal, dreamlike feel to the gallery. According to the sculptor Robert Morris (whom Holt cites as an influence), natural hues in sculpture "allow for the maximum focus on those essential physical decisions that inform sculptural works." In other words, and to match Morris with Bachelard, one's emotional relationship to the object is rooted in the interaction the person has had with the physical space it incorporates.
Past Event
Friday, June 27, 2008, 7 p.m.
Lawrence Arts Center, 940 New Hampshire St., Lawrence
All ages / Free
"My work, as with Minimalism, has as much to do with how the work is navigated by the viewer as what the actual objects represent," Holt said.
In Vernacular, as with all of Holt's installations, place drives the theme. "I often do site-specific work where the overt content of the work is dictated by the context of the site," she said. "The wheat fields have this sort of quiet beauty that I'm very interested in aesthetically."
Plaster negative molds will concentrate on what's no longer present. "I employ the process of casting in metaphorical terms," she said. "To me, a mold creates the memory of an object, picking up the traces of its history and the now-absent human presence of its use," she said.
Holt cites Marcel Duchamp's theory of "infrathin," the relationship between the original object, the mold and its replication, and the difference that exists in mass-produced objects. As Holt notes, infrathin is "rather complex and often vaguely described." Her interpretation, however, is that infrathin is related to a transfer of essence or a state of being in-between.
Past Event
Tuesday, July 1, 2008, 7 p.m.
Lawrence Arts Center, 940 New Hampshire St., Lawrence
All ages / Free
In regard to her work, "it is important to me that the object used to create the mold is absent and is replaced by its 'ghost,' allowing me to explore the threshold that lies between presence and absence," Holt said. "Clay has the ability to permanently contain this presence or memory."
This summer, Holt will leave for a nine-month residency at the Watershed Center for the Ceramic Arts, outside Portland, Maine. Lawrence-the wheat, the rain, all of these everyday objects-will be memory. »