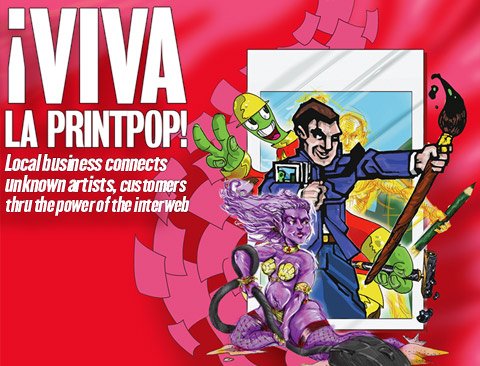 On August 25, 2003, a couple of guys from Lawrence named Devin Walker and Ladd Epp launched a small company out of Walker's house called Printpop.com.
It worked like this: Artists would upload images of their work. Orders would be placed. Using magic software that could turn a one-megabyte image into a high-resolution print as big as a building, Walker would print digital images onto posters.
Then it was let 'em dry, roll 'em up, wrap 'em in butcher paper, a plastic sleeve, corrugated cardboard and a shipping tube, label 'em, tape the ends up and ship 'em out. (Rawhide!)
People like Karen Yee, a 48-year-old mother of two from El Segundo, Calif., would receive a check for 15 percent of the price of her oil painting of Robert Plant, uploaded to the site for free, and Joe Blow would get a high-quality print. Bam.
Nearly five years later, 375 artists are listed on the site with thousands of pieces uploaded. Catering to the niche market for unknown art, Printpop hasn't become a super-site like Amazon.com, but Walker says they push out a steady stream of 75 to 100 prints a day.
Through the power of the interweb, Walker's home office operation has spread far, attracting artists from 42 states, seven Canadian provinces and 17 other countries. He says a 12-year-old Russian girl and a 60-year-old Chinese art instructor have both uploaded work.
Yee, who has put 69 paintings on Printpop, says she caught wind of the site from a Canadian artist she'd met on MySpace. Entering the art market five years ago by selling her paintings at galleries in her area, she says business took off after she began spreading her art online.
Two events triggered Walker's simple idea. The first occurred in 2000, when he won a charity auction enabling his daughter and a few of her friends to spend the night at a firehouse. They climbed the firepole. The rode the firetruck. They wore the firefighting suits. The firefighters cooked them dinner. And Walker recorded the whole event on his new digital camera.
Afterward, everybody-relatives, the other girls, their families-wanted pictures. The technology was not yet available to make the prints on his computer without paying a boatload for special paper and ink and waiting hours for the printer to screech them out.
He got online to look for cheaper, easier options and found this newly launched site called Shutterfly, which was offering 250 free prints just to sign up. Perfecto.
The second event occurred a month later when an old high school friend of Walker's living in San Francisco gave him a phone call. She told him her friend had an art gallery and for some reason she'd remembered a painting he'd made in high school. She was wondering if he could take a picture of the painting and ship it to her to show her friend. He had a digital camera, he said, and he could do her one better. He could email the picture to her. (Wow!)
"Then the wheels just started turning. I realized there was a demand for people to see artwork by unknown artists, and people that wanted that artwork," Walker says. "And there was technology out there that could take a digital image and make a good-quality print with it."
Photo Gallery
Printpop.com

He searched the internet for a website that specialized in this sort of thing but couldn't find one. Within days, he says, he started designing Printpop.
Work got in the way. He took a job doing web stuff for the Lawrence Journal-World. Time passed. Then he took a new job as the web guy at the Kansas City Art Institute, which is where he met Ladd Epp, who was the computer programmer.
Carpooling together from Lawrence to Kansas City, Walker started telling Epp about his idea. Epp says he was looking for a project too, so they teamed up, using the design Walker had already made and Epp's programming expertise. In a matter of months, the site went live.
They've made a number of additions in five years. They now also print art on items like purses, T-shirts and messenger bags, they fill custom requests and they've launched a MySpace-style social networking section of the site.
They have done very little traditional advertising, instead focusing on targeted campaigns, like having an Andy Warhol look-alike hand out flyers at First Friday in Kansas City or sponsoring an art show in L.A. They have regional representatives in six major cities, such as New York, Philadelphia and London, who spread the word in exchange for free prints.
Chrissy Martinez, a 28-year-old artist and software licensing consultant from Chicago, says that because Printpop isn't an Art.com, a big site that sells popular work by the van Goghs and Picassos in addition to that of lesser-known artists, you don't have to deal with a corporate chain of command.
"Devin actually flew out from Kansas to Chicago for my first gallery show," she says. "I doubt the owner of Art.com would have done that for me."
There's also an archival aspect to the site. Tyson Schroeder, an artist from Kansas City, says he regularly changes out the images on his website to keep things fresh but keeps older pieces on Printpop. Walker says other artists have emailed him saying they've lost digital copies of their artwork and Printpop is their only backup.
"You'll never see 'Starry Night' or anything by Warhol on Printpop," Walker says. "That's not who we're for. You can go buy those anywhere. We're for the people that stand around Jackson Square in New Orleans trying to sell their art, or put their art in Papa Keno's or anywhere around town because they're trying to make some money. That's who we exist for." »