If you dig furry creatures and groove on sounds, here's something you may want to tune your mind to, compadre:
A compact disc is for sale at the Lawrence Humane Society and the Clinton Parkway Animal Hospital. It's $10, and proceeds go to helping those cute lil' critters loved by all but the cold at heart.
The children's CD, "Five Little Monkeys and Other Kidstuff," was produced by local musician Fran Snyder and includes animal songs with titles like "Poindexter Presents!!" and "Birddog and Dogbird."
Snyder says he wrote about half the songs for the CD a number of years ago after he was approached to write animal songs for a kids' TV show that would include educational music videos about animals.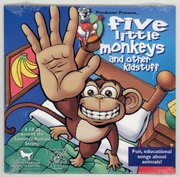 "The TV show never got made," he says. "Basically, the producers had a squabble, but I didn't find that out until I'd written about six songs for it. And I had no experience writing children's music. Didn't really like children's music to begin with."
A few years afterward, Snyder says, his friends started having kids, and he burned six songs onto CDs and started mailing them out as Christmas presents. They were so well received, he enlisted a bunch of other musicians and put together a 12-disc CD.
Long story short, Snyder's dog died, and now the CD is being sold locally to benefit the Humane Society and the animal hospital, until the 1,000 copies they have run out.
Five Little Monkeys and other Kidstuff
$10
Sold at the Lawrence Humane Society and Clinton Parkway Animal Hospital
"We've always gotten our pets from the Humane Society," he says. "We've had great success, great pets from there. We're convinced that's where to go. In the process of doing that, I made friends with the director there and pitched the idea."
And the rest, compadre, is animal music history.