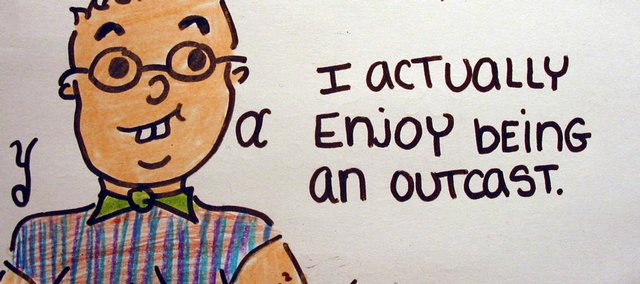 Photo Gallery
PostSecret secrets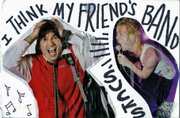 Past Event
Wednesday, March 5, 2008, 7 p.m. to 9 p.m.
Kansas Union, 1301 Jayhawk Blvd., Lawrence
All ages / Free - $5
Four years ago Frank Warren embarked on a modest artistic experiment.
He began handing out 3,000 blank postcards to strangers in Washington, D.C. He requested they tell him a secret - one that had to be true and had never been shared with anyone else. Within a month he had received about 100 back.
"I stopped passing out postcards and thought that was the end of the project," Warren recalls. "But somehow the project hit this tipping point and spread virally in the real world. I continued to get postcards that started coming from Texas, California, London and Brazil. What started out as just a trickle of secrets - maybe one or two every day - became 100 or 200 every day."
Since then Warren has received several hundred thousand postcards filled with secrets at his Germantown, Md., address.
The resulting PostSecret.com site Warren established continues to be one of the most popular on the Internet. He gets nearly 1.2 million visitors every week.
So why has this concept struck such a collective nerve?
"It may be the safety people feel when they tell their secret to a stranger on a train - the whole idea of anonymity, and it's a safe place where you're not going to be judged. What I really hope is that when people share these secrets with others, they're not just finding a sense of healing or solace for themselves, but maybe a dozen other people are listening to that secret that for a moment feel (comfortable) with whatever secret they're carrying," he says.
Warren will speak about his PostSecret experiences at 7 p.m. Wednesday at the Kansas Union Ballroom on Kansas University's campus.
He says, "I like to share funny, inspirational stories and project on the screen postcards that were kept out of the book - the secret secrets. Last night a couple dozen students (at Virginia Tech) actually got up and shared extraordinary secrets from their own lives, everything from body image issues, concerns about academic pressure, difficulties with parents, self-harm or substance abuse. It can be a very emotional night."
Alternate meanings
One glance at the PostSecret contributions reveals a combined package of creativity and raw emotions. Although the secrets funnel in on 4- by 6-inch pieces of cardboard, the contributors often put great effort into finding or hand-making postcards that comment on the secrets.
For instance, one visible on this week's posting shows a happy couple from a 1970s magazine ad clutching an infant between them. An X is marked over the baby's face. The caption reads: "I love my husband more than my daughter. I often wish she was NEVER born."
Other notable ones from this month include:
¢ "I have been planning my husband's funeral for 24 years."
¢ "I don't care about recycling (but I pretend to)."
¢ "Every year a single rose from this pink rose bush would bloom white. My grandpa thought it was really special, he and I would wait for it every year. He died nine years ago. The white bloom still comes but now it's just like any other flower."
"There are some secrets that come again and again," Warren says. "The most popular, I have to admit, is 'I (urinate) in the shower.' Also secrets that deal with relationships, loneliness and intimacy - it's the paradox that the larger the world population grows, the more loneliness there is."
Warren, whose parents both hail from Kansas (dad was raised in Emporia and mom in WaKeeney), says that often a submitted secret will change meaning the more he scrutinizes it. He points to a recent entry that stated: "The doc called with the results, you're sterile. But I never told you. Congratulations, it's a girl."
"The first time I read that secret I thought it was written by a deceptive wife who perhaps had an affair on her husband and wasn't telling him, and this was evidence that the child was not his. But then after traveling and talking to other people, I've come to understand it differently. I understand it now that it may be written by a wife who's thankful for this hidden miracle in her marriage," he says.
Biggest, brightest, most influential
Warren has published four books of these postcard collections, each rising into the top 10 of The New York Times best-sellers list.
For the second year running, PostSecret was named Blog of the Year at the Annual Weblog Awards (Bloggies). PostSecret versions have been launched in French and German with upcoming plans for a Chinese version.
It is achievements like these that landed Warren the No. 11 spot on the 2008 Forbes list of the 25 biggest, brightest and most influential people on the Internet.
"I knew it would be special for me personally, but to know that it's resonated for so many people from around the world, I find that very gratifying," the 43-year-old author says.
But Warren isn't content to just let others do his creative dirty work.
"One secret from every book is from me. That way I can participate in the project and see it from a different perspective," he says.
Warren says he reveals the full details of a particularly damaging secret during his campus speaking tour.
"At a level beneath my own awareness I had this internal struggle I was keeping from myself for 20 years," he confesses. "Only from seeing the courage strangers were showing me anonymously was I able to find the strength to face this part of my life I'd been hiding."