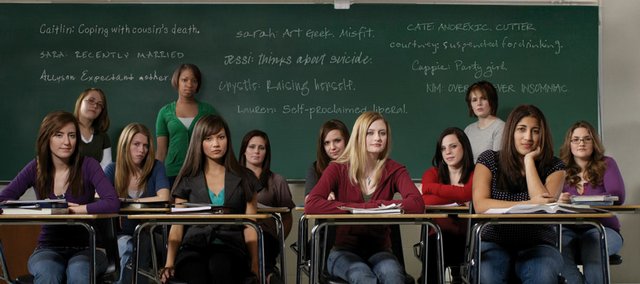 'High School Confidential'
When: 9 p.m. Monday
Where: WE tv, Sunflower Broadband Channel 124
High School Confidential
Sharon Liese was preparing to take an active part in one of the most turbulent and influential periods of her child's life: high school.
So six years ago the single mom decided to pick up a camera on the eve of daughter Justine's freshman year at Blue Valley Northwest High School.
"I knew she was going to launch on this new adventure, and I wanted to document what goes on in high school. But I quickly abandoned the idea of documenting her and instead decided to follow other girls through the high school she went to," Liese says.
The Overland Park resident gambled that she might capture an honest, unflinching look at teenage life, so she pitched the project as a potential series to New Line Television.
"High School Confidential," her documentary series that took years in the making, debuts nationally Monday.
"If you look at high school, I don't think you can look at any four-year period in a person's life and see so much change. In one hour - because there are eight episodes - you get to see the journeys of two or three girls going through that four-year period. It's really eye-opening and dramatic," she says.
Shot from 2002 to 2006, "High School Confidential" centers on a dozen teens in suburban Kansas City as they deal with complex, intimate and pivotal conflicts.
Seven of the 12 girls featured now attend Kansas University.
"When people first hear about it, they automatically lump it in with reality TV," Liese says. "It is so NOT reality TV. Everything is so unscripted. You can't script three pregnancies with three different outcomes, a brain tumor and some of the other things you see in there."
Party central
Liese and a majority of the "cast" are in New York this week on a whirlwind press tour that takes them to the sets of "Good Morning America" and "The Tyra Banks Show," in addition to shooting a photo session for Newsweek.
"It's a little weird having my high school experience shown on TV. But I'm pretty happy with it. It's a pretty positive thing," says Cappie Viveros.
Dubbed the "party girl" by the show's press materials, Viveros is one of two teens who share the focus of the pilot episode. Raised by a single mother, she is depicted as a sliding student with a rebellious boyfriend and abandonment issues pertaining to her father.
"I feel like it's pretty accurate," says Viveros, who is currently at KU studying math with a concentration in teaching.
As for being typecast as the party girl, Viveros admits, "I wouldn't say I'm comfortable with it, but if you want to call me that, that's fine. ... I've actually calmed down a whole lot. I partied myself out, I think."
Extreme behavior
Party girl seems quaint compared to how fellow "High School Confidential" player Cate Crandell is described.
"I am the 'anorexic wrist-cutter,'" Crandell says.
"I was disappointed about a couple things, but you have to think about that it's four years being summed up in half an hour. ... That was like a very short period in my life, but apparently it was the most extreme, so that's how they're marketing it. The actual episode focuses more on my family life."
As with the other girls featured in the program, Crandell was one of an initial 40 incoming freshmen who applied to Liese for consideration. Twenty-five girls were then selected to be interviewed, and those eventually were whittled down to a dozen.
Unlike the majority of reality television, Crandell says the production process wasn't particularly invasive.
"We weren't really followed by cameras. There were interviews - maybe two or three a year. Toward junior year and senior year is when they came to events. ... You didn't even know they were there because it could have been our high school broadcast team," says Crandell, a KU sophomore studying French.
Despite the often unflattering struggles depicted onscreen, Crandell is enthusiastically embracing the project.
"If I could do it again, there's no doubt that I would," she says. "I think that it will definitely help people who are struggling through the same thing."
Cultural message
Filmmaker Liese herself graduated in 1976 from Saratoga High School in Saratoga Springs, N.Y.
"The same pressures are there that were there when I was in high school, but there are additional pressures," the filmmaker says. "I think that girls have always had the pressure of conflicting cultural messages like 'be sexy, but don't be sexual.' On top of that, I think the girls now are expected to make something of their lives - which is a good statement for our culture, but it also adds more overachieving pressure."
Liese owns a marketing and communications firm, and she has produced dozens of corporate videos. Yet she had never attempted traditional filmmaking prior to "High School Confidential." When pitching the concept, she was startled by how interested those in the coastal-based industry were about a series set in the Midwest.
"There is so much shot in L.A. and New York, people found it refreshing that it was shot in Kansas. They also got into the idea it was the heartland because it really could by any high school in the country," she says.
Liese's daughter, Justine, who was the original impetus for the project, believes her mother has tapped into an honest and significant account of her high school experience.
"I didn't really understand what she was doing at first, but then as the years went on I realized how cool it was, and it was becoming a really big project," says Justine Liese, a film major at KU.
She's also thankful that mom's effort didn't turn into a kind of glossy MTV soap opera a la "Laguna Beach."
"These were just girls who started talking to my mom," she says. "It's not like they were trying to get famous or be on television. As one of the girls told me, she felt it would be like a home video. They were doing it for real reasons."