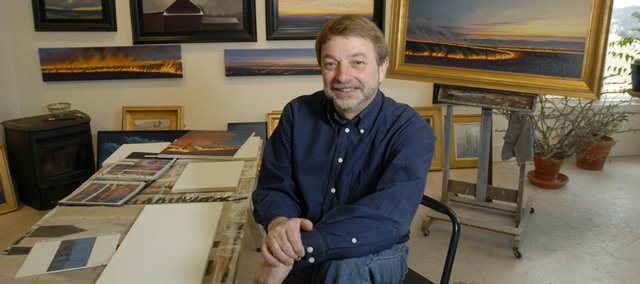 Louis Copt watches the TV screen, which shows a roaring, crackling fire rushing through brown grass in the Flint Hills.
All that's missing is the smell of smoke and the terror of actually being there.
"It was way too windy to be burning that day," Copt says with a smirk.
He would know - he was the one holding the video camera.
Copt has built a successful artistic career, in part, on his realistic paintings of Flint Hills fires. But for his latest project, he put down his brushes and picked up a video camera.
"The Prairie on Fire," a 12-minute art film/documentary on the burnings, premieres during an event Tuesday night at Pachamama's, 800 N.H.
"I guess it's the challenge," Copt says of his fascination with prairie fires. "Fire is light, and artists and photographers are concerned with light. There's a fascination with fire, which is light itself."
The process
Every spring, landowners and ranchers in the central Kansas Flint Hills burn off dead grass from the winter to speed up new growth and discourage trees from sprouting up.
That green grass, in turn, fattens up cows that become world-class Kansas beef.
For three years, Copt drove through Chase and Morris counties during burning season - which starts in late March - in his Chevy pickup with an "Eat Beef" license tag on the front. He calls this is "passport to the Flint Hills." He looked for fires to document.
He also returned to the area during other parts of the year.
The end result, a 12-minute film, is divided into three segments:
¢ Pre-burning, with brown tallgrass shown in late winter.
¢ The fires.
¢ Post-burning - both the charred soil immediately after a burn and the cows grazing on green grass in the weeks following.
Aside from music and two quotes put on the screen about fires, Copt lets the video speak for itself.
For Copt, who has a studio northwest of Lawrence, learning a new craft was a challenge - and, he admits, a bit intimidating. He took a film-making class at the Lawrence Arts Center and bought a video camera.
But given that he typically takes still images of fires and then paints based on those images, Copt says shooting video wasn't that different from his usual creative process.
"When I photograph, I try to compose the image or the frame and not look at it as a photograph, but as a finished painting," he says. "I follow the same principle when I'm shooting film."
Photo Gallery
Louis Copt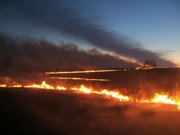 The message
Copt, a native of Emporia, wanted others to understand and appreciate the fires he grew up watching.
"Mainly, it's something to show them that fires are a natural type of phenomenon to preserve the grass," he says.
It's a phenomenon Kelley Hunt can appreciate. Hunt, who also previously lived in Emporia, is a Lawrence musician known for her blues songs. But she teamed with Copt, a longtime friend, to write the score for "The Prairie on Fire."
She was impressed by how Copt captured the blazes.
"I think it's really similar to what he does anyway," Hunt says. "He's a painter, and this is another way to see things with a painter's eye, just with a camera."
Much of the music Hunt wrote is ethereal synthesizer music to capture the mystery of the burnings. The last portion, with the renewal of the prairie, has more upbeat blues music.
"I think this is a metaphor for now matter how dark times may seem, you can burn off the old stuff and the new growth comes in," Hunt says. "It may seem dark and scary, but the sun will rise again."
'Primordial' fascination
The 12-minute video is the first incarnation of Copt's footage. He's working with Jim Hoy, an English professor at Emporia State University, on a 30-minute version that will incorporate interviews with ranchers and experts on the burnings.
"The way I'm approaching it," Hoy says, "is from a practical point of view - both the folk methodology and purpose, and bringing in the scientific reasons for burning."
Hoy, who has written portions of books about prairie fires, says he understands the fascination.
"There's something primordial about fire," he says. "There's something fascinating to humans about fire. Why do we like wood-burning fireplaces? They're inefficient, dirty and a lot of work. But we love them."
Copt says KTWU, the PBS station in Topeka, has expressed interest in broadcasting the half-hour version of the film. He's hoping additional PBS stations will pick it up as well.
He says he wants the final film to be educational but keep the same raw nature feel as well.
"It's going to be kind of a balancing act," Copt says. "I want to keep it artistic but interesting to someone who wants to gain knowledge."