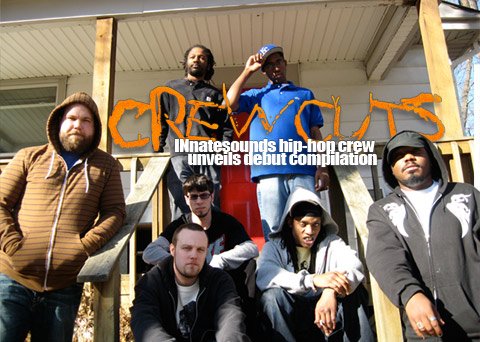 Oftentimes, the prevailing logic regarding the Kansas City and Lawrence hip-hop scenes is that our homeboys could be worldwide if they just got organized.
Enter INnatesounds. The brainchild of producer Miles Bonny, INnatesounds began to take shape when Bonny's former SoundsGood collaborator Joe Good "retired" from the game (time will tell if Joe-Z gets back in the ring). Left to his own devices, Bonny unionized Kansas City's best hip-hop talent (and associates from California to Britain) into a collaborative, scene-boosting crew. During two months of workhorse sessions, the 20-strong caboodle assembled its debut compilation. The 18-song "Alpha" collection is a chest-beating battle cry to locals, non-locals, and extraterrestrials.
No-fi highlights from the podcast
lawrence.com: Why did you decide to be a part of the INnatesounds crew?
Stik Figa: I came to it because I like to rap, and everyone who has beats here has really good beats.
Ubiquitous: I came into the group just being a longstanding member in the local scene and having seen everyone form up separately and carve their own niches out. It's been a long time coming.
Godemis: I just like eatin' emcees and writing verses and I feel like I'm working with the most talented individuals : We just decided to smash it all together and stir it up and see what we come up with.
Leonard Dstroy: I make beats, scratch and record fools. I'm here to make some dope shit with these fellas.
Smoov Confusion: I rap, sing, do whatever's needed. I'm the sixth man. Let's go.
Brother of Moses: I'm down with the collective because we got a tight group of talented fellas who definitely got something to give the nation, the world and the universe.
Miles Bonny: The crew became a crew because Joe Good stopped rapping. It was just me, and Gunn Jakc was hard to find. There are lot of people who are amazingly talented individuals around me who I thought could benefit from each other. Luckily, pretty much all of them were down. We continue to grow and reshape what we're aiming to do, but as of now we're just trying to make some really good music and set some new precedents.
What does a crew do that a rap group doesn't?
Godemis: Everybody has a different sound and a little something for whatever sort of hip-hop you like. Some people like it softer, some people like it more soulful, and then you got more rah-rah sort of music. I feel like we cover all bases production-wise and lyrics-wise.
Stik Figa: I'm not as lyrical and fast and agile as my man Godemis and Ubiquitous, but I can get a record from 'em. I can't sing, but I can get Smoov or Miles or Reggie B to sing for me on my record.
Miles Bonny: None of us are trying to copy anybody. We all have influences and we all have people we look up to and learn from it's a culture that has a history. But people aren't brought into this crew if you're not already clear as to how to operate as a solo individual. (phone rings) I mean, our phones never stop ringing around here. So all ya'll trying to call, we put ya'll on hold, 'cause we got things to do.
Did you have to change up your style to be a part of the crew?
Stik Figa: I would say I just recently came into my own. A lot of the early stuff I did people thought it was good, but I knew it wasn't me. I really had this affinity for sounding from any rapper from New York, because I had a complex about being from Memphis and Topeka : I made the trip back to Memphis to hang out with family and play them some of the music I was making. They were just like, 'Who is this?' : I can get on these records with all these guys and still sound like me. I'm the most comfortable that I've ever been writing raps and delivering them, because it's 100 percent me.
Godemis: I felt like I was comfortable enough to get out of my element and write from angles matching a vibe and a concept that I didn't necessarily give birth to. That was a pretty cool triumph as a lyricist. Then there was a due date, and I don't usually write under those circumstances. Knowing it had that time crunch on it, it was cool to be able to rise to the occasion and see the goal through.
What's next?
Leonard Dstroy: I'm excited to see what happens on the next one because this one came together in like a month and a half. Now we're even getting used to each other. If we have six months to work on it, what can we do then?
Miles Bonny: We have a series of instrumental releases titled "Works" that are in the process. I came out with the first volume to get it rolling and next one will be Lenny D's in March : I have another one coming out which will be the third in the series. We've got one from Reggie B that's already done. Beatbroker told me his is almost done. Aside from that, you're going to have solo projects. There will be multiple C.E.S. Cru releases, Stik Figa is always working : The first thing I tell people is that being down with the INnatesounds crew does not make you any more productive. You always have to be working on yourself, by yourself.