Paint tubes on the floor, canvases stacked against the wall. Themes emerge, with the occasional odd surprise poking through (abstractions, thick paint, scratch marks, then a rabbit shooting out of a sewer pipe?).
Pan out: an old couch, a work table, computer. Then a stage, with mics. Some chairs. An old printing press. Fake tombstones. Where is the swing? There should be a swing, the place is big enough. Or someone on roller skates. That's what I feel like doing.
It's the Warehouse/9th St. Studios: maybe the world's most jaw-dropping gritty creative space. Clare Doveton, painter, shares it with crop artist/muralist/Midwestern Renaissance cowboy Stan Herd. Filmmaker Kevin Willmott has some goings-on in here, too. Sometimes a band will play a gig.
But today it's just Doveton; she's pinch hitting, filling in a last-minute exhibition spot for curator Molly Murphy at the Bourgeois Pig. One week to go. What to show?
If it weren't for her recent flu, Doveton might be flipping out. It's something she accuses herself of doing a lot: "I burned out after a certain point. I flipped out. There's a lot of baloniness that goes on in the New York art scene." Or: "I got pregnant and I kind of flipped out, so I went to New Mexico for a year." But then again, she's a career artist; quick turnaround shows aren't anything to get ruffled over.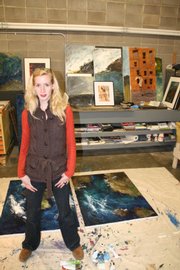 Isolarios
Along the edges of Doveton's space, propped against the walls, are abstractions of browns surrounded by deep ocean blue and softer whites, the result of a dialogue about place and home she's carried on with New York artist Olja Stipanovic, a native of Croatia. Doveton is fascinated by Stipanovic's heritage and home; Stipanovic, in turn, is intrigued by Kansas. The two started sending cryptic postcards to one another to define the places they are from.
And then this happened: "This island thing came out of nowhere," said Doveton.
She's a go-with-it painter, a contemporary extension of the Automatists and Surrealists of the last century. "I never know what I'm going to paint," she said. "Frankly, right now I feel kind of over it (the islands), but really I have no control over it."
Doveton works her canvases on the floor, using paint directly from the tube and a palette knife. When the dust settles, she looks over her recent work and her recent inner past: "That's the thing about being a painter. You should make yourself follow whatever you're doing in your life. But I try not to think about it while I'm doing it. I don't like it to get too contrived. But afterward I like to look up the symbolism," she explains.
"An island? Dude, I'm from Kansas!" she said. "But then I can look back and look at the symbolism and figure out all the little corollaries."
Past Event
Sunday, March 16, 2008, 7 p.m. to 9 p.m.
Bourgeois Pig, 6 E. Ninth, Lawrence
All ages / Free
Piecing It Together
Figuring it all out takes a little research. "I started spending hours researching maps; I found all these maps of the Mediterranean from the 15th and 16th centuries called Isolarios. They were essentially blank. They only give a vague idea of a shoreline or a vague idea of an island, and no place names. They were left for those going along on the journey to fill in."
Bingo. Doveton's career arc has been a journey: Kansas, New York, San Francisco, New York again. Then she got pregnant, went to New Mexico, had an energetic boy, and found home, this time in good old Lawrence, again.
Of course, that journey came out in paint, too. She calls the series the "Family Portrait," mixed media works on paper that will be featured at the Pig show.
Photo Gallery
Doveton art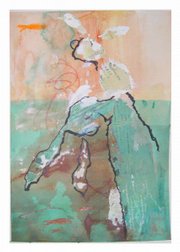 "The weird dynamics that happen when a couple have a baby," she explains. "The arguing and fighting, the self-sacrifice involved with being a mother."
The images are still abstract, open to the viewer's interpretation, but Doveton sees through them. There is one of her and the baby: "Me underwater. I think I felt overwhelmed by everything, drowning underwater, and holding my son up-to be with fishes that apparently fly in the sky!" she laughs. Automatism can be a hoot.
Other strange imagery: "Moving back to Lawrence, there were all these weird smoking alcohol bottles that would be talking to me," she points out in another painting. It's a quirky image that won't be too difficult a stretch to many downtown Lawrence explorers. "This is a good example of how I don't plan anything out," Doveton laughs.