Little Adam
Age: 23
Sign: Pisces
Hometown: Lawrence
Occupation: Custodial artist
What were you doing when scouted? I was going to get margaritas at La Parrilla
Favorite stores? Wal-Mart, Target, and Michaels.
How often do you go shopping each month? I go about four times a month to keep up with all of the new fashions and styles.
How would you describe your style? Kind of fresh with a splash of juice.
Where do you get your hair cut? Wes at Headmasters.
Favorite trends? On girls, I like when they wear pantyhose. For guys, I like alpaca, llama, and hats.
Least favorite trends? Big guys with freckles and guys who wear pants that are too tight.
Photo Gallery
Style Scout: Little Adam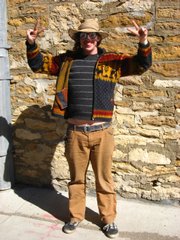 Tattoos/piercings? I have a casual Jayhawk on my leg that my friend did, and a Diane Arbus tattoo on my arm that I got at Big Daddy's, which Carlos did.
Favorite coffee shop? I like Java Break because it's relaxed and you can talk there. They also have nice furniture.
Favorite bar? I like the Tap Room because everyone there is really nice. The bartenders are hot, especially Prashant.
What would you like to see more of in Lawrence? I want to see more skyscrapers. More Wal-Marts...one on every corner. I want to see beer vending machines, and more places where you can get Surge and Jolt cola.
What would you like to see less of? Less public transportation. I like single transportation. Less bad graffiti on the picture of the trumpet player on the wall of the Jazzhaus.
Who are your fashion influences? Wes, Wild Man Vintage, Malina, Chumbawamba, and Johnny Depp 'cause I resemble him.
Tell us a secret: I like the Matchbox 20 song "Push."
Shout-outs: Hank, Billy, Big Adam, Mex, Ash, Bob, Turkey, Mom and Dad.