Julie Ibach, restaurant manager, roller derby vixen "Oucho Marx," old lady arts and crafts fan
How do you save money?
"By eating 90% of my meals at work and by looking at things and going, 'Oh, I could make that myself.' I made my own leggings for roller derby off of a 99-cent Hilary Duff pattern. At Costco I'll buy 40 pounds of cat litter of $10. I can make a dress out of the bag, it's that big."
How do you splurge?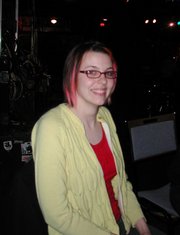 "I probably splurge the most at the fabric store and the antique mall. I'll spend a lot at Checkers on the 'Wall of Meat,' usually on steak. I like to treat myself to Bottleneck trivia once in a while. Games for my Nintendo DS, as well. They're not that extravagant. Well, maybe a little-they're $30. I need to get Mario Kart DS, but it's $35! I almost splurged on a Wii at Costco the other day."
More like this story on Lawrence.com