Heather Hill
Age: 20
Sign: Gemini
Hometown: Scott City, KS
Occupation: waitress/student
What were you doing when scouted? Getting coffee and going to the park.
Favorite stores? Miss ortune's Creation Station, ecoboutiquo, Casbah (R.I.P.). The Goodwill is awesome, and I also like Boomerang in Kansas City.
How often do you go shopping each month? About 2 to 10 times.
How would you describe your style? Classy. It's pretty funky. I try and pull everything off, really. Someone once described me as "fey."
Where do you get your hair cut? I have my friends do it, I do my own coloring.
Favorite trends? I really like high-cut trousers and skirts, awkward jewelry, black skinnies on men and women, vests, and the leggings. I also think Beatle boots are awesome.
Photo Gallery
Style Scout: Heather Hill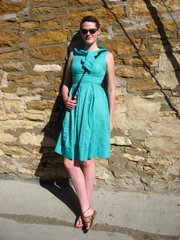 Least favorite trends? Ugg boots, and popped collar polos, in general.
Tattoos/piercings? I have a star tattooed on the back of my neck, which I got at Freaks on Broadway in KC, I have my ears pierced, and I got my nose pierced at Big Daddy Cadillac's.
Favorite coffee shop? Henry's is amazingly chill downstairs and a party upstairs. Java Break has really good food when you're drunk and hungry. I go there a lot.
Favorite hangout? I like South Park, especially the awkward gazebo.
What would you like to see more of in Lawrence? People on bikes. I want to start a bike gang. More hippies, more people jamming on Mass. Street More organically fair/vegan restaurants.
What would you like to see less of? I want to see less SUVs, less cold weather, and less Wal-Marts.
Who are your fashion influences? I like Chloe. I'm pretty much a Vogue magazine whore. The list of designers I like is huge I just love everything. I think Scarlett Johansson is stylish, and Tyson Beckford. I like Loni from ecoboutiquo's style.
Tell us a secret: I still sleep with a stuffed animal named Mr. Bun Buns.
More like this story on Lawrence.com