Josh 'Jumpshot' Adams
Age: 26
Sign: Aquarius
Hometown: Prairie Village, KS
Time in Lawrence: 8 years
Occupation: clerk/drummer/painter
What were you doing when scouted? Working at Wildman Vintage.
Favorite stores? Calamity Jane's, Jock's Nitch, Covered Ink (R.I.P)
How often do you go shopping each month? I go two or three times a week, digging for old, used dry goods and well-worn women's shoes at thrift stores.
How would you describe your style? Wesley Snipes
Where do you get your hair cut? Headmasters, by Wes
Favorite trends? I like beards for men, namely the marauder. For women, I like whatever Bryn wears.
Photo Gallery
Style Scout: Josh 'Jumpshot' Adams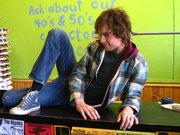 Least favorite trends? Mother/daughter Ugg boots
Tattoos/piercings? I once wanted to get a Ford Taurus tattooed on my upper arm.
Favorite coffee shop? I've gotta say Milton's, In Lawrence, but Stumptown in Portland, Oregon is the best coffee I've ever had.
Favorite bar? I love the play drums at the Tap Room. The sound is really natural...as it should be.
What would you like to see more of in Lawrence? More sunshine, more bowties. More cute little dogs and more Wing Streets.
What would you like to see less of? Bad drivers and 10 gallon hats.
Who are your fashion influences? I don't really have any influences, but I love the styles of the mid 20th century.
Tell us a secret: I have a very obsessive personality. And actually, when you scouted me, I was really sitting on the counter at work doing a crossword puzzle.
More like this story on Lawrence.com