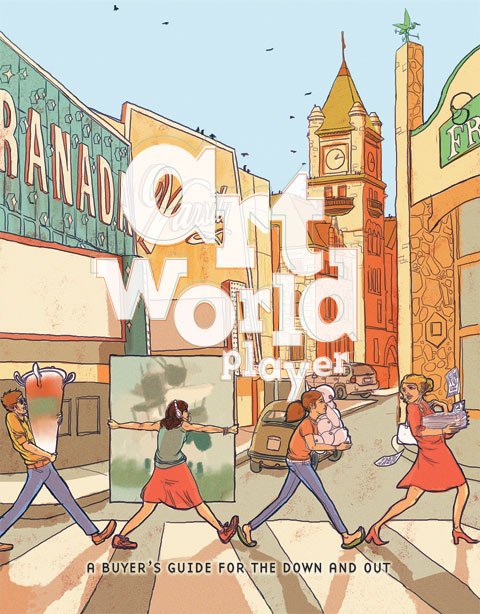 If art according to your walls is some water-damaged drywall and your roommate's Hendrix poster from freshman year, fret not: you can be an Art World Player by summer.
OK, so maybe "Player" is a bit strong, but Collector: now that we can do, easy. There's a learning curve, but it's a fun one. And trust me: it's more about the hunt than the money.
Dumpster Dive What You Love
My art collection had the humblest of beginnings: a dumpster.
Specifically, it was a dumpster behind the ceramics department at the Kansas City Art Institute. These were pre-college days, and I was poor: crackhead-roommate, ramen-noodle poor. I owned a vinyl recliner, and that was about it since all of my cassette tapes had been stolen. But somehow, amid my misery, I managed to stoke a love for contemporary art. Maybe it's because galleries were free, and the Nelson (back then) still charged admission. In any case, late one night, there it was: a rejected cityscape painting, big and blue and yellow and just perfect.
Some of the basics of being an Art Collector
1Mind the documentation: When possible, get a bill of sale, a letter of authenticity, and an artist statement.
2There's nothing wrong with eschewing traditional framing, but do seek out advice on options. When framing, be sure to request archival materials.
3Do not hang art in direct sunlight or over a fireplace. Use picture hangers (available at hardware stores), and if the work is heavy, be sure to use supporting brackets.
4As your collection grows, be sure to document each piece and discuss your insurance coverage with your agent.
5Keep in touch with the artist. Someday s/he may want to borrow the work for future exhibits.
6From Sally Piller, owner of 6 Gallery: "Beware of the 'limited edition' print signed by the artist that is actually a reproduction of an original painting or other work of art. These things aren't art but actually decor." Only buy original art; if it's a print or photograph, be sure your work is signed and numbered.
7Keep in touch with the artist. Someday s/he may want to borrow the work for future exhibits.
The escapade to retrieve it was the stuff of perfect summer nights: finding a friend with a truck (it was huge); avoiding the night campus security; getting it in the door; the splinter in my hand; the shattering plaster and multiple nails required to hang it. My imagination set me on course to believing it had been rejected prior to a critique; the brushstrokes were simple, elementary. The palette was as basic as they come. I adored this painting. It was original art, and it was mine.
It's no secret that artists are temperamental types-that's why we love them. These temperaments, combined with the pressures of classroom critique, leave many an art school dumpster full of fantastic artwork. Plan your covert trip near the end of the semester when stress is high and studios are being cleaned out. Best bets: behind the KU Art & Design Building (obviously), the Lawrence Arts Center, and all of the alleys in the student ghetto. Kansas City trips through the West Bottoms and the Midtown neighborhood surrounding the Art Institute are fruitful, too. May is prime time, but why wait?
Of course, I'm not saying you should dumpster dive, because, you know, it's illegal. But you knew that already.
Hey Small-time Spender
When finances ease up and you're ready to crawl out of the dumpster and shed your miscreant ways, life in Lawrence is sweet: we have original artwork everywhere in this town, from the coffee shop to the Corner Bank.
Past Event
Friday, April 4, 2008, 5:30 p.m. to 8:30 p.m.
Lawrence Arts Center, 940 New Hampshire St., Lawrence
All ages / Free
Forget the image of Big Time Art Collector calling in bids to international auction houses, keeping track of artists' careers like the Dow Jones, and fine-tuning his collection like a stock portfolio. Where's the heart in that?
In time, you may become this person, and if that's your trajectory, then god speed, my friend. In the meantime, keep cool: have fun, take it easy, and keep it real.
Your guiding principle: Buy what you love.
Although it's difficult to predict what you will heart forever and what you will grow out of, when it comes to art objects, a good story will connect you to a particular piece. This is why I always encourage people to meet the artist. Chat a bit at the opening, maybe pay a studio visit. Most artists like talking about what they do, and the memory of your conversation will always be tied to the artwork you have in your home.
Art-buying opportunities in Lawrence are too numerable to count: The Bourgeois Pig hosts art community up-and-comers each month; prices start as low as $25, and artists get 100% of the sale. Don't miss the opening if you are keen on buying: many Pig shows sell out.
Past Event
Monday, May 5, 2008, 6 p.m. to 10 p.m.
Teller's, 746 Massachusetts, Lawrence
All ages / Free
Young artists are also the focus of the Fresh Produce Art Collective sales, held (in general) every couple of months on the top floor of Teller's. These one-night-only exhibits run the gamut; works are packed onto the walls salon-style, wine is cheap, and Being Seen is important. Go with cash in pocket. Spontaneity rules.
You can hitch a ride to the west side of town and Corner Bank, a populist venue that showcases work ranging from that by employees (through March) to notable artists such as Dan Coburn and Zak Barnes.
And always keep your eyes open for eclectic art opportunities, like the Cone Box Sale next month at Baker University. Artists were challenged to create small ceramic artwork no larger than the dimensions of the Orton Standard Pyrometric Cone Box (3 x 3 x 6 inches; Orton cones are used to determine proper firing inside a kiln).
"I saw things that made me pause, whether at an exquisite craftsmanship, humor and whimsy, or a wonderful weirdness and bizarreness," said Bede Clarke, a juror for this year's show, which opens April 1. Works are priced below $150.
Past Event
Saturday, April 12, 2008, 6 p.m. to 11:59 p.m.
Lawrence Arts Center, 940 New Hampshire St., Lawrence
All ages / $25 - $30
Going Once, Going Twice...
Art auctions are intimidating at first, but they're rich: The people-watching, the push of the crowd, the competition. I have to admit, sometimes I go and bid with no intention of buying. I love the volley back and forth; I love that moment of terror when I may not be outbid after all, sweating bullets that maybe I will be going home with a Dennis Oppenheim trumpet sculpture and $1,200 on my credit card. (Fortunately, the other bidder's hesitation was part of the dance. Well played!)
Auctions in these parts tend to be fundraisers, with pricey tickets. You may be able to get around that by volunteering to work the event. A good rule of thumb is to open the bid at half the listed market value, but if it's getting toward the end of the evening and there are no bids on a work you like, it's OK to go low. Just prepare yourself to be bid out in the last 10 minutes of auction frenzy.
A responsible person would tell you that you should go in with a predetermined amount to spend. It's a good rule, it makes sense. I never stick to this rule. The fun of auctions is getting carried away. I'm not your mother. Make your own decisions. Just be sure you have enough room on your credit card.
Good Karma for Collectors
1Buy art made by living artists. We don't need to worry about estates; artists, however, must make a living, just like the rest of us working stiffs.
2Never disclose dollar amounts with others. It's rude.
3If you choose to commission a work, tread carefully. Be forthright about what you are expecting and check in at regular intervals throughout the process. Most importantly, hold up your end of the bargain: make your payments on time. Sample contracts are widely available online.
4Respect the asking price. If it's more than you expected, simply say it's not within your budget and gracefully direct the conversation to another topic.
5If an artist is represented by a dealer, do not ask the artist for a covert sale to avoid paying the dealer's percentage. A pissed off dealer can come down hard for breach of contract.
Deal or No Deal
Eventually, you'll want to develop a relationship with a dealer. A good dealer will learn your tastes, the direction you'd like to go with your collection, and can build relationships between you and the artists you like. Keep in mind, also, that a dealer in contemporary art should challenge you.
Sally Piller, owner of 6 Gallery downtown, takes a special interest in young art collectors just starting out. "One thing I'd advise is to buy works on paper, which in general are much lower in cost than paintings and are an excellent investment," she said.
A dealer can help curb your ADHD and get you on the path of a cohesive collection. Yet even here, you should let love rule: "The style of the piece or even the popularity of the artist is not as important as the quality and craftsmanship in the artwork and the fact that you are just crazy about it," Piller said.
"Don't ever buy something because somebody told you it was good. It has to be something that you think is wonderful, for whatever reason."
Piller also recommends steeping yourself in the art you love. "Do a little homework," Piller said. This town is bursting with art academics and professionals who can help guide your exploration. Spend time at the Art & Architecture Library in the basement of the Spencer Museum of Art; go upstairs and engage the curators. Follow event schedules and attend as many lectures as possible.
The more you learn, the more you'll love it.
I still collect art-mostly local-but I no longer own the cityscape painting I adored, the painting that started it all. When faced with a microscopic Chicago apartment, I did the what I knew was right: I leaned it against a dumpster. It was gone within an hour. »