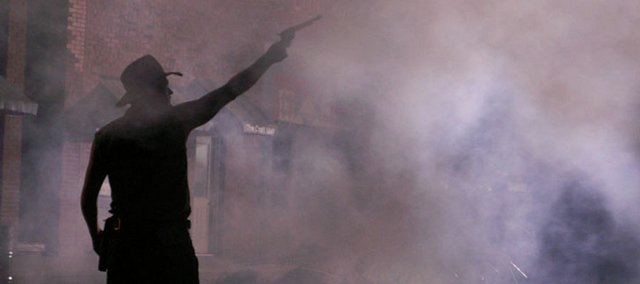 "The tools of conquest do not necessarily come with bombs and explosions and fallout. There are weapons that are simply thoughts, attitudes, prejudices to be found only in the minds of men. For the record, prejudices can kill, and suspicion can destroy, and the thoughtless, frightened search for a scapegoat has a fallout all of its own."
- Closing narration from "The Twilight Zone" episode "The Monsters Are Due on Maple Street"
The town of Bunker Hill resides in Russell County in the central plains of Kansas. As of the 2000 census, the population numbered a modest 101 citizens.
But Kansas filmgoers - and with a little luck, national audiences - may soon equate the name Bunker Hill with that of the movie that shares its title and setting. The name could also develop into a kind of allegory for the type of modern intolerance and terror-mongering that has escalated since 2001.
Movie
Bunker Hill
***

In Lawrence filmmaker Kevin Willmott's latest drama, James McDaniel portrays a former Wall Street executive who heads to a small Kansas town to reconnect with his estranged family. But when an unaccountable event knocks out all electricity and communication, the town is thrown into chaos.
"We tried to make a film that was entertaining at the same time as being provocative and political, making a statement about where we're at right now in our national identity issues involving security, fear and civil liberties," says writer/director Kevin Willmott. "It's a way of making the post-9/11 movie without having to be in Iraq or New York."
Willmott, an associate professor of theater and film at Kansas University, shot all of his latest feature, "Bunker Hill," entirely within the Kansas towns of Lawrence, West Mineral, Nortonville, Sedan and, of course, Bunker Hill. The full-length drama premieres Saturday at Liberty Hall, 644 Mass.
The impetus for the picture began years ago when Willmott was trying his hand at standup comedy and spent hours trekking Interstate 70 between gigs. The name Bunker Hill stuck with him.
So when he and co-writer Greg Hurd decided to craft a script about a town abruptly cut off from everywhere else, he already had the title.
"What happens in this little Kansas town when you lose total communication with the outside world?," Willmott says. "No one's on the highway. No planes are in the air. Your car won't work. What do you do? What happens is you kind of revert back to the old ways."
In "Bunker Hill," Emmy Award-winning actor James McDaniel ("NYPD Blue") portrays a former Wall Street executive who heads to Bunker Hill to reconnect with his ex-wife Hallie (Laura Kirk) and two children. This doesn't sit well with the town's main employer (Kevin Geer), who is dating Hallie, or with his hothead brother (Blake Robbins).
As tensions flare, an unaccountable event knocks out all electricity and communication. With the town isolated from the rest of society, a new brand of justice is introduced, leading to violence, torture and murder.
The hour-and-a-half project mines similar material found in films such as "The Trigger Effect" and the classic "Twilight Zone" TV episode "The Monsters Are Due on Maple Street." Yet Willmott injects fresh themes of racial profiling and Patriot Act-era invasiveness into the mix.
"The problem with 9/11 has been that we've been so worried about the beast that we've not looked at how we've been behaving," Willmott says.
Audio clips
Kevin Wilmott on "Bunker Hill"
Cinematic demands
"Bunker Hill" not only makes use of veteran Hollywood faces such as McDaniel and Saeed Jaffrey ("Gandhi"), it recruits career actors who have Kansas ties.
"I think a lot of America is out of touch with how most people live," says star Laura Kirk, a 1990 KU theater grad based in New York.
"There are an awful lot of movies about the kind of people who write and make movies. I'm usually more interested in stories about people living more recognizable lives."
The Lecompton native considered it "a blessing" to be able to return to Kansas and work in an environment surrounded by friends and family. But she says the challenges of indie filmmaking proved rigorous.
"A high percentage of the days were actually (night shoots)," she says. "I enjoyed some spectacular dawns coming back to Lawrence from Nortonville. It's very hard for the cast and crew to stay 'up' for weeks in a row. It gives the film a drive and tone but certainly was a challenge."
Adding to the cinematic demands was the fact Kirk's two young children accompanied her.
"As any parent knows, there's not a lot of down time when you have young children," she says. "One afternoon some of the kind women watching us work in Nortonville just offered up a basement with a TV and toys. My baby-sitter took them over and I thought, 'only in Kansas.' It was a great way for them to see what I do. The makeup artist also put a gaping wound on my son, so he now knows that the blood in movies isn't real. He still asks. I keep reminding him."
Past, present, future
Actor Blake Robbins got to experience exposure to plenty of movie blood - both representing his own and others - during his turn as the destructive redneck Delmar in "Bunker Hill."
"He's a unique guy - one of those fun characters for an actor to play. I wish I could say it was a stretch, but in actuality he came pretty easy to me, once I got the right clothes on," says Robbins, an L.A.-based actor who has ties to Independence, Kan.
Robbins is probably best known for his recurring role on the HBO prison series "Oz." And he'll be seen this season on prime time shows "Criminal Minds" and "Eli Stone."
Past Event
Saturday, March 29, 2008, 7:30 p.m.
Liberty Hall Cinema, 644 Massachussets Street, Lawrence
All ages / $10 - $15
While he won't predict what type of audience might embrace "Bunker Hill," he says what appealed to him about the script was its intelligence and entertainment value.
"It seemed to be working in the past, present and future all at the same time. And I couldn't resist the idea of getting to ride horses, shoot guns and brand a person - I should say 'pretend' to brand a person," he says.
In fact, Robbins became so enamored with the Kansas setting that he and Willmott are working together on a script that is based in Lawrence.
Robbins says, "(Kevin) has access to a lot of great filmmaking opportunities in the Lawrence area, and I have access to some great people and opportunities in Hollywood."
Breaking in
While "Bunker Hill" is finished and ready for release, the movie is still technically in limbo until it finds a distributor.
Willmott's previous feature, "C.S.A.: The Confederate States of America," was bought at the Sundance Film Festival and released internationally by IFC Films.
"The film thing is so weird because you're in control of it to a large degree, and then at the end you lose almost all control. That's the biggest problem with independent film. Having a local premiere (for cast and crew) is kind of my way of still retaining a little bit of control," Willmott says.
Working from advice offered by director Spike Lee (who earned a "presented by" credit on "C.S.A."), Willmott vowed to make another movie as soon as possible after "C.S.A." became commercially successful.
"I think a lot of filmmakers, once you get a bit of a break, think that Hollywood is going to roll out this carpet and say, 'Come on in.' That just doesn't happen. When Hollywood rolls out the carpet, it's their carpet they want to roll out," he says.
Willmott reveals he has been offered the chance to direct studio pictures, such as a remake of the '70s hit "Foxy Brown," but the creative compromises potentially outweigh the career benefits.
"I try to make films about things I believe in," he says. "That's why I'm in Lawrence. It takes me a little longer, and it's a little harder. But in the end I'm happy with what I've done."