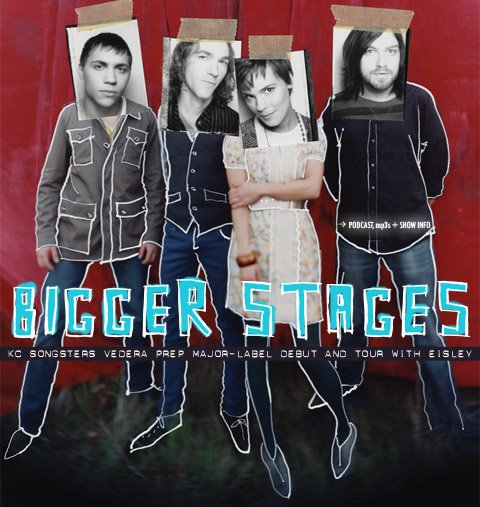 If marriage is a covenant to stick it out for better and worse, then Kristen May and Brian Little are in it for the long haul. As half of the Kansas City band Vedera, the couple has already endured trials like losing all their gear on the road and fighting a legal battle to keep their old band name (Veda). At the end of the day, however, May and Little own an unbreakable songwriting bond that has taken flight with support from bassist Jason Douglas and drummer Drew Little. A major-label deal with Epic Records coalesced after a year of negotiations, setting the stage for the group's sophomore album "Stages" (tentatively scheduled for an early summer release). With a righteous lead single ("Satisfy") stirring the pot, the band will embark on a two-month tour with Eisley to put chick-rock back on top. We visited the lovebirds at their Westport roost to chat about "Stages" and check out some new (and old) tunes.
No-fi highlights from the podcast
You were known as Veda back in the day. What happened exactly?
May: There was a band in L.A. that had the same name phonetically but it was spelled Vaeda. They put out an album before us and they had good lawyers.
Little: They had lived in New York and then moved to L.A., so they were technically an interstate band.
May: We fought it for like five months, but they started to say that when they would set up tours clubs would get confused : so they made a case that way.
Little: We had definitely done more touring.
How did you arrive at the new name?
May: We were trying to hold on to as much of "Veda" as we could, just out of spite probably.
Little: At first we were trying to be The Veda we exhausted every attempt to have something close.
May: It was right after all of our stuff got stolen and we were kind of at a point where we were deciding if we wanted to keep being a band : We were thinking of names with the word "era" in it, like a new era of Veda.
How did the Epic deal come about?
May: Luck.
Little: We were on tour with Mute Math and we were playing at a place in L.A. called The Troubadour. They were coming out with a new record at the time, and labels were bidding for them, and one of those labels was Epic. One of the A&R; guys that went out there was named Mike Flynn, and he had gotten wrong information and come early. But he liked us and stood in line and bought a record from Kristen.
May: We didn't sign right away. We talked for like a year and tried to meet everyone we could at the label : It's cool because we didn't change too much about the songs, but any input that they had as far as guitar sounds and melody lines always seemed to work out.
They just made you recycle choruses.
May: (laughing) Yeah : "Satisfy" used the chorus of "Desire on Repeat" from the last record.
Little: We ended up writing something that was completely simple and should have been there in the first place. I feel like we're all growing as songwriters just by being able to work with producers and bounce ideas off them. It's way cool.
So you like the new version better?
May: Yeah, we actually do. I don't know if all our fans do, but they'll get over it (laughing).
How does the new record differ from the first?
May: We've tried to craft the songwriting more and not be so afraid of pop sensibilities.
Little: It's been three years since then. We've been taking it really seriously and playing every day, so we've definitely become better players.
Since there's kind of a funk over the record industry, did Epic address that when you were having conversations?
Little: They didn't really ever come out and say, "Hey, the industry's not doing so well; we need your help." The good thing is that Epic is still doing pretty well.
May: They still have a decent reputation for putting out solid acts that have careers. Our producer kept stressing that he wants to make a good album, which is nice to hear because the majority of time in major-label situations I think the focus is on having the first hit.
Any feedback so far on the first songs you've let out there?
May: It's mostly positive. The cool thing about our fans is that if they're saying something negative, a lot of them put it in a really sweet way.
Little: At the end they'll be like, "Really optimistic about the new record though:"