Former KU football standout Charles Gordon, now a cornerback for the Minnesota Vikings, once bowled a 244, he tells Breaking News. It was his high score. The next game, he bowled 244 again. He has yet to replicate the feat.
"I played basketball at the rec a couple times, and this guy came up to me," continues Gordon, who's finishing his business management degree this semester at KU. "He goes, 'You're in my biology lab.' I was like, 'Yeah,' whatever. We were playing a game, and I guess another guy told him, 'Yo, that's Charles Gordon,' so then he comes back up to me. He's like, 'Oh my God, I didn't realize it's you. I'm sorry.'"
BN: Why was he sorry?
CG: He kept saying that he was sorry. I don't know.
Gordon reports: "Some people don't believe it's me. Some people believe I'm bigger than what I am, I guess. I had one guy tell me his friend thought it wasn't me. I had to be a different Charles Gordon because I'm small, or something like that. I've met some people with some weird things going through their heads."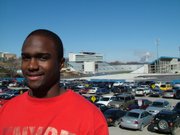 As a rookie for the Vikings, he notes, he was saddled with the task of getting chicken for the veteran defensive backs. He also had to help set up and break down a temporary wall used during team meetings. Also, he likes to play Nintendo Wii.
In other news, Breaking News received another entry in its ongoing Essay Contest (send entries to frank@lawrence.com), from one Uncle Pete Tankard. Tankard, of the Dallas area, writes:
Frank, I did not see any rules in your contest barring family members so I thought I would participate.
I have not lived in Lawrence since 1983. Following 4 years in college I graduated on a Sunday got up Monday morning put Lawrence in my rearview mirror and started my worklife at 8:00am on Monday morning. Now it seems people stay in college forever, perhaps graduate eventually, and then stay in Lawrence drinking $5 cups of coffee, eating granola, and listening to mediocre music. I would propose limiting residency in Lawrence to the same standards as collegiate athletic eligibility. It should be limited to 4 years (no redshirts). If people want sit around and smoke a hookah move to Amsterdam. Let's keep Kansas for Kansans.
Your Cranky Uncle, Pete
P.S. are the T-shirts you're giving out American made? If not take mine wad it up in a ball, hang it from a string, light it on fire, and chant anti-Globalization slogans as it burns.
-All facts in this story are real. Got a breaking news tip? Email Frank Tankard at frank@lawrence.com. Keep on rockin' in the LK!