Jamie Zoeller, student of accounting, professor of mixology, watcher of sports
How do you save money?
"I generally set goals if I need to save money-figure out how much I need to save-and then I just don't go out. I stay at home, watch lots of movies, and drink wine. I'm kind of a Netflix junkie. It's so much cheaper than renting videos or going to the movies. I'll get a bunch of movies from Netflix, a $10 bottle of wine, and stay in. I generally like cheap wines from Argentina or Chile."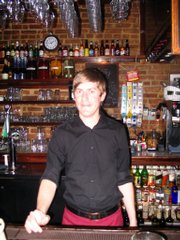 How do you splurge?
"Fine dining and travel. I've gotten good at saving money because I love to travel, and when I travel I really like to blow money. I save up as much money as possible and then go somewhere glamorous. The last trip I took was to central Mexico, but I just bought a ticket to Venice for this summer. I'll be studying international accounting practices in northern Italy for about four weeks, then I'll travel to Rome and Paris and Barcelona. So far as fine dining, I like Cafe Beautiful here in town and La Fou Frog in Kansas City."
More like this story on Lawrence.com