Jordan Tarrant
Age: 20
Sign: Taurus
Hometown: Wichita
Time in Lawrence: about 2 years
Occupation: skateboarder/artist (see nawkturnalart.com)
What were you doing when scouted? Painting on Mass. Street.
What are your favorite stores? White Chocolate, Third Planet, and Love Garden
How often do you go shopping each month? Not very often. I sometimes make my own clothes. I made the shirt I'm wearing with bleach and an airbrush.
How would you describe your style? Happy. Fun. I don't group myself in a category. I just want to be myself.
Where do you get your hair cut? Rex's on Mass. Street.
What's your favorite trend in fashion? I don't really keep up with trends. I like originality, if everyone was their own person, that's how it should be.
Photo Gallery
Style Scout: Jordan Tarrant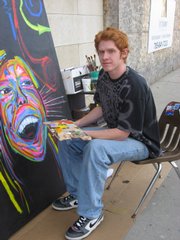 Least favorite trends? Popped collars, big sunglasses, and tight pants on guys.
Tattoos/piercings: I want to get a tattoo eventually, but I'm waiting for the perfect time.
Favorite coffee shop? Milton's, if I had to choose. They show a lot of different art there.
Favorite places to hang out? Usually friends' houses or the skate park. I don't have a designated hotspot. Wherever the good times are.
What would you like to see more of in Lawrence? Art, murals, and hip-hop. I think downtown should be one big art piece.
What would you like to see less of? I can write a whole paper on that. Mainly, less frowns and less white walls on buildings. Less frats and sororities.
Who are your fashion influences? Salvador Dali, Bob Marley, and The Gonz, who is one of the old-school skateboarders. Gluttonous Monk 7, and Dondi White, a graffiti innovator.
Tell us a secret: Everyone is born an artist and slowly you are socialized out of your artist self, so everyone should paint.