Lindsay Curtis
Age: 26
Sign: Aries
Hometown: Lawrence
Time in Lawrence: I lived in Lawrence for 22 years, but I currently live in Washington D.C.
Occupation: student at Georgetown University
What were you doing when scouted? Watching the Georgetown/Davidson game.
What are your favorite stores? The Antique Mall, Milton's, Free State, and The Merc.
How often do you go shopping each month? I go shopping about three to four times a month, usually at thrift stores or Loehmann's.
How would you describe your style? I'm a cross between Jane Birkin, Deborah Harry, and Pattie Boyd.
Where do you get your hair cut? I used to get it done at overly expensive places in D.C., but now I come home to get my hair cut at Joda & Friends in Lawrence.
What's your favorite trend in fashion? I'm into minimal jewelry, but I like a lot of belts. I love ankle boots, vibrant tights with open-toed high heels, and I've really been into jumpers lately. For men, I like sweater vests.
Photo Gallery
Style Scout: Lindsay Curtis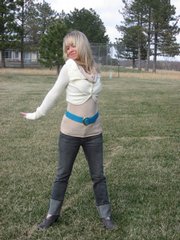 Least favorite trends? Sweatpants with writing on the butt, plastic '80s earrings, and baggy saggy men's jeans, because I like to see what's going on.
Favorite coffee shop? In Lawrence, I like Milton's. I don't drink coffee, but I love their biscuits and gravy. In D.C., I like Murky Coffee....they have the best chai ever.
Favorite bar? I like the Tap Room because I've never found anywhere else like it. I like going to Henry's upstairs, because it has a relaxing feeling. It's a good place to catch up with old friends.
What would you like to see more of in Lawrence? I'd like to see more decent barbeque restaurants. I'd like to see more bipartisan beliefs and conversation and more acceptance of different political beliefs. I want to see more people dress up their dogs in outfits and walking them on Mass. Street, because that's very big in D.C. right now.
What would you like to see less of? Being away from Lawrence, you realize how great it really is, so I don't see how things need to change. Lawrence is great like it is.
Who are your fashion influences? Marc Bolan from T. Rex, Britt Ekland, and ballerinas.
Tell us a secret: I'm obsessed with llamas.