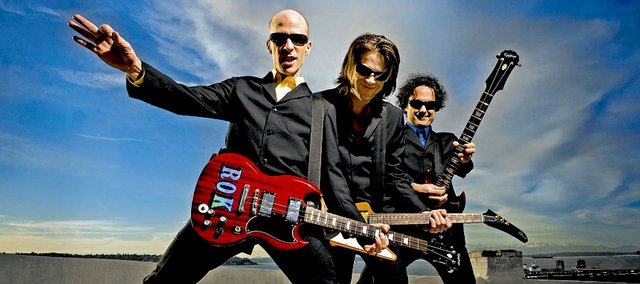 While the 1990s were politically synonymous with Bill Clinton, the decade's music scene was equally receptive to The Presidents of the United States of America.
The Grammy-nominated, multiplatinum-selling band racked up quirky rock hits such as "Lump," "Peaches" and "Kitty," and provided the version of "Cleveland Rocks" that served as the TV theme song to "The Drew Carey Show."
Now the trio is back 15 years after forming - and weathering several subsequent "breakups." The Presidents sport a new album, "These Are the Good Times People," and a new "guitbass" player, Andrew McKeag, who joins founding members Chris Ballew and Jason Finn.
"We're actually way better as a performing unit now than back then," says Finn, who just returned from a two-week tour of Europe.
The Seattle band may be most fondly remembered for its clever videos that ruled MTV back in the day. The group has an equally eye-popping one for its current single, "Mixed Up S.O.B." The video was directed by Weird Al Yankovic, and it creates a virtual world using picture flipbooks.
"We worked our butts off syncing up these actual flipbooks to the words," the 40-year-old drummer says. "It took like 50 tries for each one."
Past Event
Wednesday, May 7, 2008, 7 p.m.
Liberty Hall Cinema, 644 Massachussets Street, Lawrence
All ages / $17 - $19
Presidents of the United States of America
Q: I saw you play Liberty Hall in Lawrence at least a decade ago. Do you consider yourself basically the same band?
Yeah. We are still providing the same service. We are still bringing the same thing to the table, and that is basically joy. It's often called funniness or quirkiness, but for us it's about joy. It's about sharing happiness as it relates to music. In that sense, we have definitely tried to stay as consistent as possible from record to record or year to year.
Q: What's one of your personal tricks for not going insane from all the touring?
A: The biggest one that we figured out many years ago was just don't tour so much. That's like when you ask your doctor for a hangover cure and he says, "Don't drink." Like many bands, that was what caused us to feel like we had to part ways for a while.
Q: Your band has an on-again, off-again history. Do the members approach it as a periodic job or a permanent one?
A: We are a full-time part-time band. We have other things that we do. But it's very easy to spend part of every day being in a band, even if you're not on the road.
Q: According to a list of the worst songs of all time by PopCultureMadness.com, your hit "Peaches" ranks at 42, between Bobbi Gentry's "Ode to Billy Joe" and Kenny Chesney's "She Thinks My Tractor's Sexy." What's wrong with this list?
A: I think Kenny Chesney should be there. I don't even know that tune, but he bugs me. If anything, I'm disappointed we're that low. I would have thought we would have snuck up into the 20s. Oh well.
Q: Why don't people like that song?
A: I think they were overserved a little bit in 1995 and '96. I think it's perfectly understandable. There are tons of songs you love, but you hear them and you're like, "Not again." People come up and say things like, "I heard it on the radio last week and I couldn't get it out of my head for days. It was driving me insane."
Q: In this election year, what political advice do the Presidents of the United States of America have to give?
A: This is a really important year. No matter which person you're interested in, you should make that known. I'm not saying everyone has to go caucus or volunteer. But it would be nice if we had some sort of unprecedented turnout, like a 60 percent. That's a pipe dream, of course.
Q: Are these really "the good times"?
A: These are the good times for us. We're old, and we don't have too many records left in us. I wouldn't be surprised if this is the last all-new, full-length studio record we do. We're fine with that. And we're glad we made a good one. That's where the title came from: You're traveling around in a van with no air conditioning, or you missed your connection and you're sitting at an airport, you just look at each other and go, "These are the good times, people."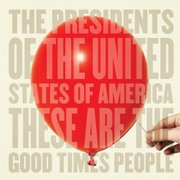 Q: Over the years, have you heard more feedback about your videos than your records?
A: I wouldn't go that far, but I see what you're getting at. We get a lot of feedback from the videos for sure. We were lucky to have a long "collaborationship" with (director) Roman Coppola in the old days. We've always had a clear idea that each video should have a central gag to it, whether that's the ninjas of "Peaches" or the "Elvis Comeback Special" look of "Mach 5." The camera loves us.
Q: Who in the band is actually the most capable of defending themselves against ninjas?
A: It's not Dave (Dederer). Even though he's no longer in the band, he actually got the crap kicked out of him by a ninja that day. That was not probably due so much to Dave, as to the fact that of the three ninjas we rented - this was L.A., so you can rent ninjas - his ninja just wasn't as good at pulling punches. Dave looked like a raisin at the end of the day.
Q: What's the best cover version you've heard of one of your songs?
A: Weird Al's "Gump" (a parody of "Lump") is so far head-and-shoulders above what anybody else would undertake. ... But actually the USC marching band did a pretty powerful "Lump" - or maybe it was the UCLA band.
Q: Can you tell me a story about working with Weird Al Yankovic?
A: I wish there were crazy stories, but there are not. He's a super-organized and talented director. ... More recently, he usually comes up and does "Gump" with us when we play in L.A. But this last time he brought his accordion and we did Boston's "More Than a Feeling" with him singing and doing the solo on accordion. It was amazing.
Q: Are you embarrassed by any songs from your past?
A: Not really. If you can wake up and not be embarrassed by "Kitty," what is going to embarrass you?