It's a colossal mound of mud today. A big, wet dump protected by a chain-link fence. Such is the construction zone west of the long-awaited addition to KU's Student Recreation Fitness Center.
Come fall, it will be a field sowed with daylilies, culver's root, marsh milkweed, black-eyed Susan, little bluestem, purple coneflower, prairie blazingstar, sneezeweed, stiff goldenrod, southern blueflag, wild geranium, Indian grass, etc.
It didn't have to be this way. The space could have become a common lawn like so many others, if not for a group of KU students who wanted to make it into something better.
It was early last fall when a few students in the KU chapter of Emerging Green Builders first started talking about a rain garden. A strategically placed rain garden sucks water into the ground rather than allowing it to pick up toxins on the way to storm drains, creeks and rivers, reducing pollution and erosion as it feeds plants.
It happened that another student, Studie Red Corn, who has involved himself in a number of environmental projects during his time at KU, had completed an independent study one semester earlier on water use and conservation on campus.
Red Corn and the Emerging Green Builders hooked up, and after meeting with KU's Design & Construction Management office for the site and settling on the rec center addition, the fun part began.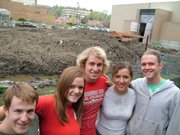 The students spent months meeting and meeting and meeting again to design the thing (all just for "fun"; no class credit involved). When they'd get some designs together, they'd take them to Design & Construction Management.
"And they tell us everything that's wrong with it and throw the red ink on it," Red Corn says. "And then we go back, do it again."
In their initial plan, some parts of the proposed the garden were too high, meaning water would continue to flow out of the garden and into storm drains. "Of course, water flows downward," says John Kenny, putting his expensive education to use. "Water doesn't go uphill."
When the students got all the kinks worked out, they ended up with something pretty massive: a 5,400-square-foot garden with 2,500 plants of 18 different species and two levels of limestone terracing.
It was so big that they had to go around begging for money. Student Senate allocated $15,000 for the project, the university may chip in about $20,000 from the rec center construction fund, and they're in the second stage of applying for a $20,000 grant from the Kansas Department of Health and Environment.
"It's more work than I thought it was going to be," says Laura Foster. "I was just like, 'Oh yeah, I'll do that.' But it's been fun and rewarding, so I wouldn't say that it's too much work."
In September, if all the surrounding construction proceeds as scheduled, the planting will begin, transforming the hill of mud into a beautiful garden.
Jeff Severin, director of KU's Center for Sustainability, says the project could serve as a model for future rain gardens on campus.
"If it does get funded and constructed this fall, it'll provide us a good demonstration, not only for campus, but for people in the community," he says. "It's something you could put in your back yard."