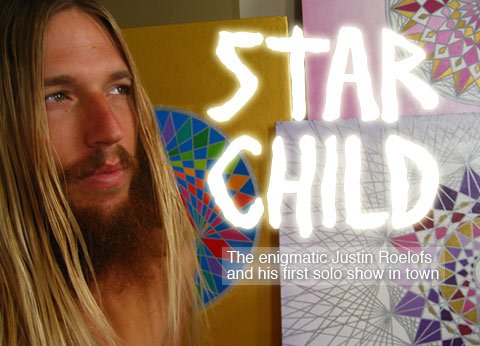 In three years, Justin Roelofs has recorded two albums and set foot on stage exactly once, guesting with Ratatat in San Francisco. So, for fans of his music, his show this week in Lawrence is not to be missed. It will feature: an exhibition of paintings, a DJ set, guest stars from around the country, and that rarest of natural phenomena-a live performance by White Flight.
Roelofs has been on the road for the better part of four years-Hawaii, Mexico, Central and South America-living close to the bone, studying the Maya and their calendar, and working on his voice. "Sound," says Roelofs, "is a healing force."
He's come a long way from his Anniversary days, the band Roelofs formed after high school and which went on to make a splash in the global post-pop pond around the turn of the century. His 2006 solo debut, the eponymous "White Flight," has been called everything from "genius" to "crazy"-a beat-heavy, sample-rich fever dream of deep jungles, starships, ancient mysteries, and love-always love.
"White Ark," Roelofs' second solo offering, is nearly in the can, and features beats by Mike Stroud and Evan Mast of Ratatat. Roelofs recorded most of "White Ark" during a nine-day marathon alone in a cabin in the Adirondacks.
Street Level met up with Roelofs to talk about fresh beats, the vagabonding life, and using brain electrodes to find your joy.
No-fi highlights from the podcast
lawrence.com: You're actually playing a show this week?
On May 10, at The Jackpot, we'll just be White Flight playing White Ark.
When I was making this record, I had just come from living totally vagrant, camping, traveling lifestyle, without permanent access to music or music equipment or recording music or electricity for a lot of the time in Guatemala. I just got back from six months without electricity again.
Is it fresher to work with a limited palette?
Always, right? It seems that in our culture, and where we have evolved, we have so much emphasis on the outer reality and all the material things. The more you strip that down in your own life, it can really help you have more clarity.
You think when your body's pure, your work is pure?
Some people I think could just be eating hamburgers all day long and it wouldn't be affecting their creative output in any way. It's just part of my path to experiment, monitor and observe, to alter and manipulate the diet. Part of the exploration of consciousness. One of the quickest ways to change your consciousness is by changing your diet.
You lived in a Maya pyramid complex in Mexico. How did you live there?
It was a really special, special situation, where this horse caravan, this group that rides on horseback and lives off fire, has that sort of lifestyle. They started in Costa Rica, made their way up into southern Mexico. The sort of pseudo-leader of this group is fearless in the sense that he'll go straight into a town in Central America or Mexico or wherever they're at, and he'll go straight for the president or the mayor or the governor, the head honcho in charge, he explains, 'We're on this caravan, we're all about sustainable living and the environment. We plant trees, we put on shows.' And he ends up making buddies 'cause he's super-charismatic. In Palanque, for instance, he made friends with the wealthiest man in town, whose family for hundreds of years has owned land right around the pyramids, in the pyramid complex.
That's federally protected, isn't it?
It is, it is. That's why there was some friction, 'cause for the first time there were all these young people with horses playing drums all night, camping in the pyramid complex. And the guards weren't so happy about this, but this man owns the land and his family has for hundreds of years, and I mean, he's got all the money, so he's in charge ...
So he owns the land that's adjacent to the federally protected area...
Well, it's officially in the federally protected area, though I was actually not on the lawn with the pyramids. We were actually camped below. If you follow the main Maya water hole, their perfect swimming that they had looks too good to be true, but you can't actually swim in that, 'cause that's like in the ... I mean, there are so many guards around it. But if you follow the water down, and it's just the most beautiful waterfalls and little pools all the way down, and we were like five minutes from the top.
What are you getting from being by the pyramids? What is it?
You know, they're, in Palanque, it was a very powerful catalyst and awakening for psychic awareness ...
Explain that.
Well, for instance, before I even got to Palanque I started to have some dreams where I literally dreamed exactly what was going to happen, people I was going to meet there in Mexico. I was even given the name of a person I met, and saw him in a dream. And that was before I even got there. So then, once I got there, it became quite ridiculous in the sense that, I would dream anyone who would come to the gathering before they even got there. At first I was in disbelief, then it started to the point where I would call it out. Where it's like, "Oh, there's going to be a girl, who has curly hair who plays guitar with a nose like this, and she's bound to show, and she would show up. And the thing was, I wasn't the only one doing that. There were many at the camp who were having very similar experiences."