Wake Mitchell
Age: 22
Sign: Capricorn
Hometown: Baldwin City
Time in Lawrence: four years
Occupation: Seller of vintage wares on eBay
What were you doing when scouted? On the way to my friend's house to grab some food and other typical Sunday activities.
What are your favorite stores? Social Service League, Wild Man Vintage, Love Garden, Henry's.
How often do you go shopping each month? I go to Kansas City about once a week to look at thrift stores, and I shop a lot for my eBay selling.
How would you describe your style? Straight out of the '70s and '80s.
Where do you get your hair cut? Nobody cuts it, and I usually trim it myself from time to time.
Photo Gallery
Style Scout: Wake Mitchell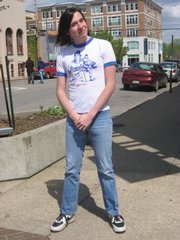 Favorite trends? I really like old v-neck sweaters and old Lacoste stuff. I'm really into color coordination and nice meshing of outfits:making sure that everything flows together. I also like old Nike and Adidas sneakers.
Least favorite trends? I hate those super tight sweatpants on girls that show off too much. I also don't like when things are deliberately made to look vintage. They're usually way more expensive than buying something that actually is vintage, and not one-of-a- kind pieces.
Favorite coffee shop? I like Henry's- straight up. I love the regulars...they're the best in town. They also have consistent baristas. I'm all about the people that hang out there.
Favorite bar? The Replay, definitely. It's my kind of crowd.
What would you like to see more of in Lawrence? I'd like to see more diversity. Lawrence is open-minded, but diversity is highly lacking. I'd like to see more understanding of each other and less of a cliquish attitude.
What would you like to see less of? Less of a frat/sorority crowd. They give me a lot of shit for the way I dress and yell things at me from their SUVs.
Who are your fashion influences? They're aren't any specific people, but I like the way the average person dressed in the 1970s and early 1980s. That era is very inspiring.
Tell us a secret: I used to be the fat kid in middle school.
More like this story on Lawrence.com