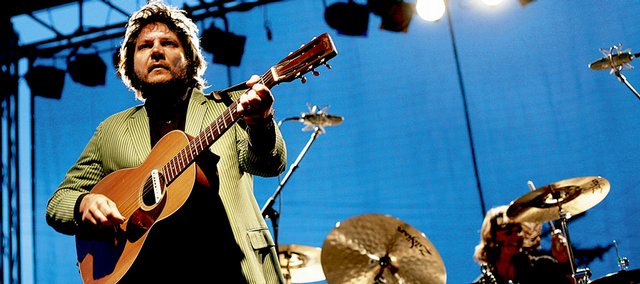 Photo Gallery
Downtown Wilco concert

The city's first major outdoor downtown concert proved successful Wednesday night, leaving many people wanting more family-friendly outdoor events of its kind in the future.
On the lawn north of the Lawrence Arts Center where opening band Retribution Gospel Choir and headliner Wilco played, Vanessa Sanburn, Jake Lowen and their five-year-old daughter Nadia Sanburn relaxed in between sets.
"When is Wilco going to sing?" Nadia asked while dancing around her parents.
The family of Wilco fans drove from Wichita for the concert. In two weeks, the family will move to Lawrence.
"Lawrence is attractive because of outdoor events that draw the community together," Lowen said.
Entertaining a community of families is important to the couple, too. Last year, the couple had to leave Nadia at home while they went to see Wilco, "so an all ages show was exciting," Sanburn said.
The Grammy-award winning band itself seemed to draw a variety of fanfare downtown, as well, and followers from as far as Vermont. About 6 p.m. Sarah Farr, 43, from Bristol, Vt., was at the head of the line of about 40 people waiting to enter the ticket gates at 7 p.m. Farr, a painter, said she takes vacation time to see Wilco shows across the country.
"It's just really fun to travel and see their shows, it's always a great time," she said.
The concert was staged by Lawrence-based Pipeline Productions. Crowd estimates were between 2,000 and 3,000. Promoters closed and fenced off most of the 900 block of New Hampshire Street, with the stage sitting at the north end of the site.
Margaret Morris, program manager for the Kansas Arts Commission and former Lawrence Arts Center art educator, helped organize the 16 or so volunteers serving Budweiser at the concert.
"I think it's a fun thing to have," she said of the beer, a rare commodity at downtown events. "With this kind of event it's good."
Some of the money raised from selling beer, an estimated $6,000, is going to help the Lawrence Arts Center. Morris said she would like to see more events like Wednesday's concert in the future, especially in the summer.
"Lawrence is so great," Morris said. "It's such a great mix of young people, young families and baby boomers, it gets people out and a beautiful night like this, what more could you want?"
More like this story on Lawrence.com