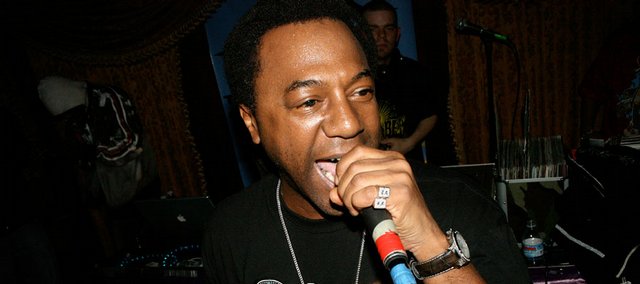 Jayhawks basketball guard Russell Robinson is netting another honor this year to go along with his NCAA championship ring: He'll be graduating from Kansas University with a degree in communications.
And communication is the key word when it comes to how Robinson will be celebrating the occasion.
Robinson - a major hip-hop fan - is throwing an end-of-the-semester concert at Liberty Hall, 644 Mass. And he happens to know the perfect headliner for the event: Busy Bee.
"He's not biologically my uncle, but I consider him one from growing up with him helping to raise me," Robinson says of Busy Bee. "What great timing to have him come here."
Because before Bill Self or Roy Williams or even Larry Brown stepped foot in Lawrence (it was actually in the Ted Owens era), Busy Bee was perfecting a new style of music virtually unheard of by mainstream America. Alongside iconic names such as Grandmaster Flash, Kool Herc and Afrika Bambaataa, Busy Bee became one of hip-hop music's first great communicators.
"I just don't rap and get the crowd into the party, I teach. I educate them on hip-hop. Rap is something we do, but hip-hop is something we live," Busy Bee says.
The emcee recalls how the young Robinson would often come see him perform while the two family friends shared the same neighborhood in the Bronx.
"You could not get a ball away from him," Bee says of the future Jayhawk. "He knew what we were doing. He'd come around every now and then and stick his nose in just to say he was in, then he was gone. He was always playing that ball. We'd call him 'game boy' on the basketball court."
Peace, love, unity
Bee (born David Parker) earned his own nicknames in that same neighborhood. He first went by Busy Bee Starski, then shortened that to Busy Bee, then eventually elongated it to Chief Rocker Busy Bee.
"That's because people would always say I rocked the joint," he explains.
Known for his comedic rhymes and brimming enthusiasm, Bee lays claim to pioneering some of the style's earliest emcee battles. His early '80s clash with Kool Moe Dee is still considered among the defining moments in hip-hop music.
"All I do is have fun," says Bee, now in his late 40s. "That's what it's all about: Peace, love, unity and having fun. That's the culture of hip-hop. No more, no less. It's not that other rap (expletive) that you see on BET, VH1 and sometimes on MTV. Hip-hop is a whole different culture."
Bee is quick to point out the demarcation between hip-hop and rap culture.
"You can bring your aunt, your grandmother, your kids to a hip-hop event. When you go to them rap shows you've got to wear a bulletproof vest and make sure your phone's on speed dial for 911," he says.
Bee movie
Bee's breakthrough to the mainstream didn't come via album sales but through movies.
He appeared as one of the leading figures in Charlie Ahearn's landmark film "Wild Style." Released in 1983, the movie has become an iconic part of hip-hop culture, with a soundtrack that has been sampled endlessly by artists such as Cypress Hill and Beastie Boys.
"'Wild Style' is a classic now. It's one of Billboard's top musicals, right up there with ('A Hard Day's Night') and 'Purple Rain,'" Bee says.
The experience of shooting the film (in late 1981 and early '82) left an indelible impression on the young Bronx resident.
"I remember those big cameras coming into my neighborhood. I lived across the street from abandoned buildings. To see the big cameras come into my neighborhood and to come get me, oh man, I was like Harry Belafonte or somebody. It can't get no sweeter than that. For a whole month I got the cameras on me, I'm getting in limousines. If you don't know what that feels like, it's better than (sex)."
Around the world
But that isn't the only movie to potentially define Bee's legacy.
A feature is presently in pre-production that reportedly casts Mos Def ("Be Kind Rewind") as Bee.
"He looks like a young Busy Bee. That's a perfect fit. Mos has been doing what hip-hop has been striving for," Bee says.
The movie is still in the casting stages and no shooting date has been set, Bee says. But he reveals the plot takes place in the years between 1977 to 1982, just as "Wild Style" is getting ready to film.
"It will be something like 'West Side Story,'" he says of the script.
In the last few years, Bee has worked hard to get back into the public eye.
He appeared at VH1's Hip-Hop Honors 2007 awards show, as part of the network's "Wild Style" tribute. Last year he also was a guest on KRS-One and Marley Marl's collaborative album, "Hip-Hop Lives." And he released a diss track with Atlanta rapper Elemental Emcee titled "Al Sharpton is a Ho." (Sample lyrics: "Al you ain't a reverend, more like irrelevant / More actor than activist, tell me what you represent."
Currently, the Baltimore resident is readying to head overseas to Denmark, Switzerland and Australia as part of the New Kids on the Block reunion tour that will also feature old-school artists such as Salt-n-Pepa and Young MC.
But for now, Busy Bee and partner DJ Ice (a Kansas native) - who are self-proclaimed "number one fans of Russell Robinson" - will return to Kansas to reunite with his family friends and wow the Jayhawk nation with his "backbone of the microphone" skills.
"I remember seeing Bee perform a long time ago, maybe 20 years ago," says Robinson's father, Russell Robinson Sr., who is helping to organize the event.
"To see him do it now is just as exciting. It was amazing then, and it's probably going to be the same amazing thing 20 years later. The music hasn't changed, it's just kind of evolved."