For better or for ill, the supremely unorthodox Dennis "Boog" Highberger has come to epitomize the supreme unorthodoxy of the city where he serves as commissioner. Since 2003, the gangly guy seen zipping around town on his three-wheeled recumbent bicycle has served on the Lawrence City Commission as the reliably progressive voice of the people.
He's an environmental lawyer with a clear platform of preserving Lawrence's unique character, pragmatically weaving between the pro-growth and pro-culture factions of city government-but that's the boring stuff. Per his bio on the official city website, "Boog's other interests include mail art, local currency, West African music, history, urban design, and bad puns." To borrow from the Austin, Texas credo, Boog is keeping Lawrence weird.
It's in this spirit that he's contributing some of his own art to the City of the Arts, displaying his correspondence collage zine, "@RtH*Le" (or "ArtHole" for those who don't speak in comic book swear words). Highberger, along with co-conspirators Andrea Repinsky and Eric Farnsworth, are anointing newly opened gallery the Lawrence Percolator by displaying their mail art and artistamp collections.
Highberger joined us for a conversation about art, politics and the infamy of International Dadaism Month.
lawrence.com: What is "@RtH*Le" and why is it so damn hard to type?
Highberger: Well, "@RtH*Le" is a sporadic correspondence assembly magazine, and I don't know why it's so hard to type. You can type it any way you want to, actually. I started it in 2000 and make them one issue at a time. I just sent out issue 593-which sounds like a lot, but that's only 593 total rather than 593 editions. The way it works is that if you want to participate you send me five to 20 works, I take those along with other people's work and assemble them together. It's influenced by the found object art movement, which comes out of Dadaism.
Recurring event
Lawrence Percolator, In the alley behind the Lawrence Arts Center, Lawrence
All ages / Free
What's your contribution to the Mail Art and Artistamp show at the Percolator?
Lots of artistamp sheets I've made over the years and other things people have sent me, plus lots of pages from "@RtH*Le." I've received submissions from over 150 artists from 30 countries. Andrea Repinsky and Eric Farnsworth are the organizers of the show, and there's lots of interesting stuff.
What exactly is mail art?
It's hard to describe. It's sort of like this international network of people who either mail artworks to each other or participate in artworks that require mailing or some other form of communication as part of the process. "@RtH*Le" encourages all media- some rubber stamps, some photo copies, collage, prints, photographs, some found objects. I have this friend in Germany who goes around to all the paper recycling dumpsters and has piles and piles of fascinating printed stuff that he's collected and sends me. Readymade items in the Duchampian tradition. I should say "in the tradition of of Marcel Duchamp"-"Duchampian" sounds hoity-toity.
Is there a connection between Dadaism and city politics-mostly that they're both confusing and absurd?
Things certainly seem Dada-esque lately. Confusing and absurd? I suppose. Dada sees the value in randomness and I suppose there's some randomness in politics. I guess I probably shouldn't take this too far.
You are still a politician, after all.
No, I'm an "elected official." Sombody's gotta do it.
Pardon me. You're also a philatelic-that doesn't require medical attention or antibiotics, does it?
As far as I know it doesn't-if I've got it I should look into that. I was a childhood stamp collector, but don't collect any official postage stamps any more.
Being a commissioner of a different stripe, with all of your artistic endeavors and progressive positions, does it ever get lonely on the city commission?
There are a lot of four to one votes, but I have respect for all of the people on the commission. We see some things differently, but I think all of the commissioners are supporters of the arts.
But aren't you kind of the lone standard bearer of the freak flag these days?
I wouldn't call it that, but I do feel a little more relaxed these days. I'm not as busy as I used to be. Since I'm not a swing vote on anything anymore, I don't get as many phone calls. I see the end of my term coming and I guess I feel free to be a little weirder.
Photo Gallery
Various pages of the @RtH*Le zine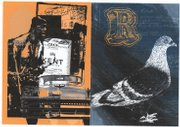 You will not be seeking re-election?
That's the plan. If you talk to me long enough, you'll see that I almost never say anything in absolute terms-there are so few things in life that are absolute. But yeah, I've left myself some wiggle room.
As an "elected official"?
No, as a politician. I've been doing it for six years-it's time for some new blood, I think. We don't need term limits in the city commission since the job does that for us.
Democracy flushes the toilet-no offense. Was your signature achievement on the commission-at least that which got the most attention-International Dadaism Month?
I think it was a very interesting exercise in media coverage. The thing that took the least time, and was the most trivial, got the most attention. The things that are really important the paper doesn't even cover, usually. In the back of my mind, I thought International Dadaism Month was silly enough that the wire services might pick it up, but that wasn't the point-the point was to have a little fun on a commission day that was otherwise pretty dead and get my friend Eric to dress up in a cardboard suit. It did achieve that.
Any plans in your home stretch as commissioner to revive it? Or maybe a surrealism holiday where we melt the clock in the courthouse?
You'll have to talk to the mayor about that. It's mayor's prerogative. I know Baltimore declared Frank Zappa day last year, so I really feel like we missed the boat on that. I was going to do Talk Like a Pirate Day, but we missed the day by a couple of weeks. You know what a pirate's two favorite letters are, don't you? "Aye" and "Arr."
Now that you're in a more reflective mood in the final stage of your tenure as commissioner, are you proud of what you've accomplished or was it even worth it?
I think we were able to accomplish a few things. There are still a few things I want to get done that I haven't given up on yet, like getting the "smart code" adopted and getting "impact fees" adopted. Saving the bus system is what concerns me the most right now. There was so much work put into making that system and it's such the wrong time to be cutting back on public transportation. Are we a city or are we a suburb? That's the question. I think it's clear that if we're going to be sustainable, we need to be a city-but that's just me. I have half-hope.
How important is maintaining Lawrence's art culture to its future as a city?
Oh, it's critical. It's one of the things that makes Lawrence what it is. I think not only does it make sense so far as quality of life, it's an economic development issue, too. There's a lot of literature that shows investment in the arts has a really great payback. There are so many people here doing so many interesting things-if that were ever to stop, it wouldn't be Lawrence anymore. »