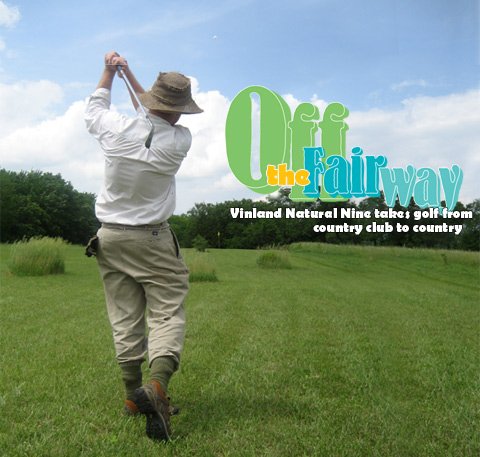 God bless the Ground! I shall walk softly there,
And learn by going where I have to go.
- American poet Theodore Roethke
Richard Morantz lives in an old trailer. A couple of holes have worn their way through his blue trousers, which are held up by a pair of suspenders. His curly, overgrown hair is thick with humidity.
Pulling up the gravel driveway to his 80-acre spread south of town on a warm spring day, you get the feeling this would be a good place to hole up when the rapture arrives, but about the last place you would think to go for a round of golf.
A half wild, utilitarian order seems to rule the place, down to the assorted junk scattered around outside and the wood stove and rack of Chinese herbs inside the home where Morantz, an acupuncturist, has lived for nine years.
You move to a spread like this to get away from things like golf, the game practiced by the man in the polo shirt who, with his expensive clubs, bad jokes and stuffy etiquette, stands for everything this place is not.
And yet, just yards from the trailer, you can see a mowed path and white paint on rough wood: "Vinland Natural Nine Golf Course."
¢¢¢
Morantz doesn't use pesticides, fungicides or fertilizers on his golf course. He doesn't seed special types of grass into the soil. All he does is mow his nine holes, leaving six inches of prairie grass for the rough, three inches for the fairway and half an inch for the green.
The course is full of features you'd never find on a normal golf course. Unmowed spots where he didn't want to scalp a mole hill or where pretty white flowers are blooming, deer tracks on one green and a jawbone near another. Once the chiggers hatch, you don't want to wander off the mowed area. And you might get a tick or two, no matter where you walk.
Cora Mitchell calls this place "the haven." It's the only course where the 26-year-old friend of Morantz will golf. "I think I don't really like to golf so much everywhere else because it's all so posh and country clubbish," she says. "Most of the places that you can go to golf in Lawrence are very much like that."
Golf wasn't always that way. Centuries ago, the Scottish played on the sandy wasteland that linked the pasture and the sea. On these links courses there were no fancy drivers. There were no carpet greens.
Morantz has never been to Scotland. He was doing a burn on his land a few years ago and saw a good place to knock a ball around on a little part of the cleared prairie.
Then he started mowing, just going where he felt like going, rolling with the gentle hills and valleys, blazing the course by feel. Designing a golf course usually isn't like painting a painting or writing a song. It's more like building a building. There's some magic and intuition involved, but it's measured. Morantz spurned that.
Photo Gallery
Vinland Natural Nine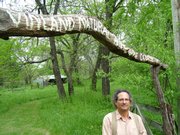 "My mother is a wood sculptor, and she's always worked with a hammer and chisel," he says. "Some of her friends say, 'Why don't you just take a saw and saw that off?' When I was out here working with my little riding mower-it's only a 44-inch mower, bigger than most home mowers but smaller than most golf course mowers-I felt like I was my mother, just chipping away."
He started doing research at the Golf Course Superintendents Association of America, which happens to have its headquarters in Lawrence. He read about how the Scottish would build their links courses by finding a level spot to place the hole and then backing up 300 yards. The land in between became the fairway.
"They wouldn't bulldoze to create a feature. It would just be there. You see this?" he asks, pointing to a slope in the fairway. "This is just here, so we're playing over it. I guess that some landscape architect with a crew could design that, with the ridges and the valleys and the trees. I just found it."
¢¢¢
Golf, at its core, is simple. Using a club, you try to knock a ball into a hole in as few strokes as you can.
All great sports are essentially simple. You need only a ball, or something resembling a ball, to play soccer or football. Borrow your pop's old glove and meet your buddies at the sandlot for a game of baseball, or show up at the basketball court in the park and join a pick-up game. This is why sports are beautiful.
Somewhere along the line, golf got tangled up with money, meticulously manicured greens, silver ponds and clubhouses.
Morantz didn't grow up playing the game, but learned two decades ago with his father when his father retired. He liked hitting the ball, but he didn't like golf courses, didn't like the chemicals sprayed to keep the lawns plush.
He moved to the high desert of San Diego County, and there was a valley he liked to practice in. Then he moved to Hawaii and lived by a dairy where he could hit the ball among the cows, alone with a single club in a little circuit he drew up in his mind.
Maybe this is how golf should be played, sloughing off the layers of decorum shrouding the game. But, in 21st century America, that's simply not what most golfers thirst for, says Jeff Bollig, director of communications for the Golf Course Superintendents Association of America. As a whole, golfers don't want courses to be cruder, simpler, more natural. They want filet mignon.
"If you lower expectations, and if the golfers can accept that, then you're fine," he says. "I guess it'd be similar to going to Morton's Steakhouse and saying, 'You're getting the top cut of beef,' and then coming back and saying, 'Well, we're going to serve you three grades lower.' Is that what the consumer wants? Probably not."
So John Novosel, who's made a name for himself as local badass of long drive competitions and invented an audio device to that helps regulate the tempo of your stroke, didn't have super high expectations when he heard about the acupuncturist's golf course from his wife.
"I was thinking, to be real honest with you, 'What does this guy know about making a golf course? He has probably no background in that,'" Novosel says.
He was right. It isn't Alvamar, the beautiful course in West Lawrence. It's something else.
"The first time I went out there I was just, I mean, 'floored' is not a strong enough word," Novosel says. "Stunned. Just amazed at what I had seen. : It's just such a unique, different way of playing golf and enjoying the game. I mean, Alvamar is great, but it's a whole 'nother outlet."
¢¢¢
Morantz' land sits on the edge of thousands of acres of old growth forest owned by KU, Baker and the state of Kansas. Once forest as well, his land was cleared long ago for farming and then for cattle grazing.
"There's this constant struggle between the forest and the prairie," he says. "Here, I happen to be the person who gets to decide who wins in any particular place."
Morantz is a longtime environmental activist. He had a brief stint as chairman of the Kansas Green Party. He once led an effort to make it so people in Lawrence would have to get a permit to chop down a tree on their property.
Now, he's found purpose in his golf course. "I had spent so much time creating groups and going to meetings and creating plans," he says. "It was too frustrating. I needed to do something where I could satisfy my environmental-protective urge by actually doing something real."
He's continuously tinkering. He constructed a small wetland on the course. He's fixing up an electric lawnmower to replace the gas mower he uses now, the final step in making the course totally carbon free. "Nobody's done that since the sheep herders," he brags.
His ball sits in a rough lie, a patch of little bluestem. He swings his iron and hits it too far. A couple strokes later, he knocks the ball in, digs it out of the ground and starts toward his next hole. »
Vinland Natural Nine
Tours available by appointment. Telephone (785) 594-7411.
More at: vinlandnaturalnine.org


View Larger Map

More like this story on Lawrence.com