James Garvick
Age: 24
Sign: Taurus
Hometown: West of the Mississippi
Time in Lawrence: seven years
Occupation: Doorman at the Replay, Liberty Hall bartender, guitar teacher, and Papa Keno's.
What were you doing when scouted? I was drinking and mourning the death of Meatball, my lizard.
What are your favorite stores? Wild Man Vintage, JC Penney for Levi's, Kohl's, and Richard's Music.
How would you describe your style? Way of the Warrior.
Where do you get your hair cut? I go to Nicolette at the Fixx.
Favorite trends? I really love boots, self-modification of clothes, and short shorts, all of these are universal. I'd say that less is more, especially in the summer.
Least favorite? Trends in general, I like when people show their personality. I don't like khaki pants and polo shirts.
Photo Gallery
Style Scout: James Garvick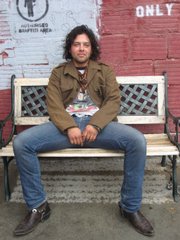 Tattoos/piercings? I have my ears pierced and I'm working on the tattoo thing...I'll probably get one really soon.
Favorite coffee shop? I'd have to say the Java Break because they have food late at night.
Favorite bar? The Replay...it's my new family, and there's a lot of loyalty with them. They're good people. I like Harbour Lights because it's simple. I'll always have a place in my heart for the Bottleneck.
What would you like to see more of in Lawrence? Perspective. Rock and roll again. Talented panhandlers.
What would you like to see less of? Rude panhandlers and less chivalry and more equality. As a door guy, I want to see less self-important douchebags, whether they've lived here for 12 years or come from somewhere else and think they're important. Even if you're the freakin' Pope. I'm not Catholic, this isn't Rome, I don't care. Get in line. And don't complain about having to pay a $2 cover.
Who are your fashion influences? Steven Tyler in the 1970s and 1980s. I'd have to say Keith Richards and Ronnie Wood as well. Guns 'N' Roses because they weren't so glammy.
Tell us a secret: I love chick pop, especially Natasha Bedingfield and Nelly Furtado.
More like this story on Lawrence.com