Kristin Vandervort
Age: 23
Sign: Sagittarius
Hometown: Wichita
Time in Lawrence: three years
Occupation: Jackpot bartender/ Liberty hall bartender/student
What were you doing when scouted? Having a beer at Harbour.
Where do you spend your money? African Adorned, The Antique Mall, Goldmakers.
How would you describe your style? Elvis with a splash of Hitler, or a bartender at CBGB's circa 1977.
Where do you get your hair cut? Megs at Headmasters.
Favorite trends? On guys and girls, I like tight pants and a lot of decoration and accessorizing. I also like high-waisted pants on women. I love hats. Men should always wear hats.
Least favorite trends? I really don't like stirrup tights with ballet slippers, and tights as pants. I also have an issue with rounded-toe shoes on guys.
Photo Gallery
Style Scout: Kristin Vandervort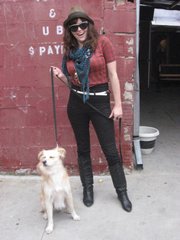 Tattoos/piercings? I have an apple on my left hip because of the book "The Giving Tree," and the name Tony Adams on the back on my neck, which means nothing, which is so perfect.
Favorite coffee shop? Henry's, because I can get a shot of Jameson in it upstairs, and the baristas are friendly.
Favorite bar? I only go to the Jackpot or the Replay because it's cheap and the boys are cute at both bars.
What would you like to see more of in Lawrence? Razor scooters. I want to start a Razor gang. I want to see some more big hair. More bulges. More leather...and more patches, for sure. More ribbons.
What would you like to see less of? Less Pipeline Productions and the Bottleneck. Less umbrellas...people should just get wet.
Who are your fashion influences? James Garvick, my friend and bandmate in Way of the Warrior. Definitely Priscilla Presley back in the day. Any mobster from the 1930s, and Prohibition.
Tell us a secret: My socks never match. I also love picking my nose. I hate having boogers in my nose.