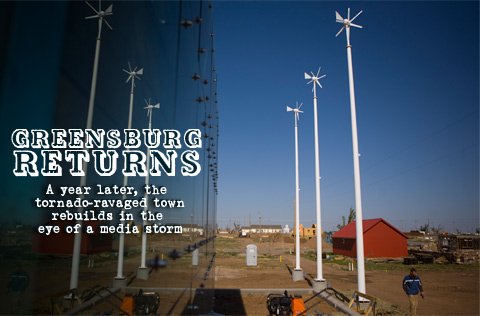 As has now become tragic lore, little over a year ago the town of Greensburg, Kan., was wiped off the face of the earth. On May 4, 2007, a massive tornado measuring EF5-the most powerful recordable with winds in excess of 200 miles per hour-swept through the western Kansas community. Estimates put the destruction of the town at 95% and 11 people lost their lives. In the wake of the storm, there was simply nothing left.
"We got a call from friends who had family in Greensburg who said they had lost everything. My wife and I hid in the storm shelter," remembers Daniel Wallach, a co-op grocer who lives north of Greensburg, of the day the tornado struck. "That series of storms missed us by about two miles. We felt very fortunate. That night, after we got the all clear on the radio, we didn't know the full extent of what had happened in Greensburg. That morning we watched on TV what had happened to the town and were devastated by it."
What used to be Greensburg was immediately declared a disaster area by both Kansas Governor Kathleen Sebelius and President George W. Bush. The Federal Emergency Management Agency moved in to help mitigate the after-effects, but there was little left to salvage. Almost as swiftly as the town was laid to waste, however, the residents of Greensburg began planning their reconstruction. Exhibiting a level of grit and ingenuity few would expect in the face of such all-consuming devastation, Greensburg would convert harrowing loss to opportunity. Within a week of the tornado strike, it was decided to remake Greensburg green.
The concept of an eco-friendly rebirth seemed to be part of a collective zeitgeist. "It's hard to nail down where it started," says Rachel Wedel of Kansas City architecture firm BNIM, credited as one of the founders of the sustainability movement, who were contacted by Governor Sebelius' office to spearhead the reconstruction. "It came from Sebelius, it came from the mayor at the time (Lonnie McCollum), it came from a group of citizens, it came from a non-profit that started to perform on the ground:from the highest and the lowest levels of government and community. The idea was circulating from right off."
Past Event
Saturday, August 9, 2008, 3 p.m.
Capitol Federal Park @ Sandstone, 633 N. 130th St., Bonner Springs, KS
All ages / $10
Daniel Wallach was one of those who were passionate about going green, so much so that he formed a community organization dedicated to making it happen. "Greensburg Greentown is a private non-profit that has a formal agreement with the city of Greensburg, Kansas, to assist in the implementation of what has come to be known as the green initiative, and that is to make Greensburg a model American green town," says Wallach. "That encompasses everything from optimal energy efficiency in homes, to water-wise landscaping, to parks and trails-just a sustainable community. We're trying to model what a sustainable community in America will look like in the future."
Wedel elaborates: "From an overarching, kind of more conceptual kind of place, it means that they rebuild in a way that their social, economic and environmental future is strong and sufficient for future generations to enjoy. It means they're building more energy-efficient buildings, which not only reduces their carbon footprint but also reduces their monthly energy bills and therefore helps sustain their residents and their economy. It also helps attract businesses because there's more energy efficient, lower monthly bills. Things like that help out on a lot of fronts. It means that their community is designed in the way that it basically was before the tornado-a small community. The idea is to rebuild in a way that again focuses activity in the center, in downtown. Focus on streets and parks and trails that are highly walkable. Make a highly interactive place where neighbors see each other on the street on the way to the grocer, or kids walk to school."
The effort was so bold Greensburg became an international standard bearer for the environmental movement, and their story was so dramatic it didn't take long for Hollywood to take notice. Enter Planet Green, a new cable network spun off from the Discovery Channel focused on the green lifestyle. The upstart has made the tale of this tiny Kansas town part of its flagship launch lineup with the new documentary series, "Greensburg."
Photo Gallery
Greensburg Returns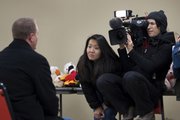 "'Greensburg' came about through Craig Piligian, who runs Pilgrim Films & Television-he's the producer behind 'Dirty Jobs' and 'American Chopper,'" recalls Timothy Kuryak, executive producer of Planet Green. "He and Leonardo DiCaprio were looking for a project to do together where they would basically start an eco-friendly town, create sort of an ecological utopia. We sort of approached them and said, 'Hey, instead of creating a town from scratch, why don't we document the rebuilding of this town that's going green?' It was a perfect way to document how this little town in Kansas could go green, and what that meant for the rest of the country and the rest of the world."
Pitching 24/7 surveillance to the residents of Greensburg was a bit of a harder sell. "Like any person would be at first, they were reticent," says Kuryak. "They had been through a terrible tragedy and were trying to get their lives together. So on top of that, to have camera crews in your face isn't the most welcome thing. I think they also realized that they weren't going to be able to do it strictly on their own. They needed the exposure that being a part of this documentary would bring them."
Daniel Wallach agrees. "I use the argument a lot with both potential donors and some hesitant residents that this kind of exposure and advertising, money could not buy. If we kind of played along and gave them a good story to tell, it would serve the community very well." "It's a much easier sale to prospective donors of product to the town that this is going to be seen in potentially millions of households. It's been a pretty good, symbiotic relationship."
Camera crews arrived in July of 2007 and have been filming ever since. Culture shock has been mutual for both camps. "They survived the Kansas winter and now they're in their first major tornado season," says Kuryak of the "Greensburg" production team. "It's funny, we have a couple people who have worked on shows like 'Survivor' or 'Laguna Beach' and they're used to nice, warm weather. From bathing suits and bikinis to the middle of Kansas. I have to say, though, they've really grown to love it. I've been out there several times and they've been embraced by the townspeople. They're almost considered townspeople themselves."
Says Wallach, "I think the greatest shock to the media and the camera crews is how media savvy these people are. There are stereotypes of rednecks, of folks who live in rural areas maybe not being as bright, and all of those stereotypes have been completely destroyed. These are people who are very sharp. You know, you have a fabric of community here that most people in the media are shocked by. L.A. does not have a sense of community anywhere near what Greensburg, Kansas has. People come out and they love it."
It's hoped the show "Greensburg" will help dispel other myths about the town. "I think the common misconception is that conservative, rural communities don't 'get' green in the way that a more urban population 'gets' it," suggests Wedel. "A lot of the most important tenets of sustainability are ingrained in their way of living. They reuse things for generations and generations; they are conscious of the natural system and rely on it for survival and livelihood."
The first episode of the 13-part series will debut June 15 on Planet Green-and not without some trepidation. "On a personal level, it's worrisome because they've gone into people's homes, and in a town of 1,500 people, everybody knows everybody," says Wedel, who herself was interviewed many times for the show. "Hopefully there aren't any neighborly disputes over what is published or not published in the show. That's a little bit frightening, but as far as the media attention, they would have gotten a certain amount of it anyway because of their progressive goals and tenacity in reaching them. I think the show will definitely help that. When you have a force like the Discovery Channel promoting your good deeds, you can't help but be glad about that."
There's plenty of opportunity for compelling storylines in the show, triumphs and hardships to be culled from everyday life in Greensburg. The city recently adopted a plan to develop an eco-industrial park meant to attract green manufacturing jobs, and a business incubator with a community center is just taking off-but the success of the entire endeavor is far from assured. Doubts about the future persist and suspense is palpable. Regardless of the uncertainty, and regardless of how it plays on TV, there's no shortage of hope on the ground in Greensburg. "It's going to be really interesting to see how the world responds because it is such an interesting story-as I say, the greatest comeback story ever told, probably," Wallach says. "And people love a good comeback story." »
More like this story on Lawrence.com