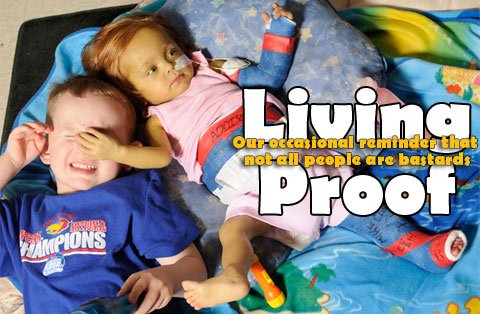 Look at the photo with this story. It's heartbreaking. It's of Addison Whitenight, who's now 19 months old and has been waiting to receive a liver transplant for a year.
The photo ran on the front page of the Lawrence Journal-World one month ago and Josh Powers saw it. He's the father of two girls, one of whom is the same age as Addison and is, at the moment, calling for "lope" (cantaloupe) from her stroller.
"Seeing that as a dad, it just really hurt my heart," he says, handing a piece of lope to his daughter.
Seeing it as a local DJ, SceneboosterSoundSystem, he decided to put on a benefit concert.
"I just thought, 'There's nothing I could do to help them in the medical field, obviously, but I have the ability to at least put on a show, make a little bit of money, and if I can ease their financial stresses even by the littlest amount, then that allows them to focus that much more on her situation and getting her transplant,'" he says.
Past Event
Friday, May 30, 2008, 10 p.m.
Replay Lounge, 946 Mass., Lawrence
21+ / $2
Addison has biliary atresia, a condition affecting one in 15,000 newborns in which the bile duct leading out of the liver is blocked, causing liver failure. She has developed rickets and jaundice, leading to broken bones and a yellow tint to her skin.
After contacting Addison's mom, Shawna Davis, with the idea for a concert, Powers called around and was able to line up a show at the Replay Lounge featuring Fourth of July, Dri and himself, with all of the take going to Addison's family. The door charge is $2, but unlimited donations are encouraged.
He has high hopes to bring in a lot of cash. The one other benefit show Powers has organized, to aid a neighbor boy with a condition affecting his brain stem, helped the boy's family travel to UCLA, where surgery corrected the problem.
"I've already raised $100 for the night, and it hasn't happened yet," Powers says. "So thanks, Mom, for that." »