WAK BLOCKED
Efforts to move the Wakarusa Music and Camping Festival from Clinton Lake to the Circle S Ranch north of Lawrence were rejected Monday morning by Jefferson County Commissioners, possibly ending the festival's tenure as a Lawrence-based event. Wakarusa organizer Brett Mosiman, who wanted to move the festival to avoid paying what he considered exorbitant fees at Clinton Lake, says he's now "not optimistic" about staying in the Lawrence area.*:The move could prove devastating to the local Cliched-Dirty-Hippy-Joke Industrial Complex.
ELECTIONEERING BOOGALOO: IMMEDIATELY OBSOLETE EDITION
In the last hours leading up to the presidential election, Barack Obama maintained his leads over John McCain in both national polls and in individual swing states. Early voting around the country has been massive, including in Lawrence where lines snaked out of the Douglas County Courthouse before election day on Tuesday.*:If you're reading this on Tuesday and haven't voted yet-what the hell are you doing?!?! GO! You can take this with you and read it in line. Hell, you can use it to swat at election lawyers from both parties for all we care. If you're reading this after Tuesday, we hope you're not too hung over from celebrating/mourning.
PHILLY IN HEAT
The Philadelphia Phillies won the second championship of their 126-year history last week by defeating the Tampa Bay Rays in the World Series four games to one.*:The franchise was so elated they briefly forgot that their mascot is some sort of tragically deformed mutant.
SAG AND THE CITY
Courtney Cox will star in the pilot for an ABC comedy called "Cougar Town," in which she will play a "hot 40-year-old mother who's newly single."*:Not generating as much excitement is the John Goodman, Kevin James, and Wilford Brimley sex romp, "Diabetes Island."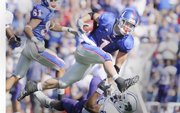 FAILED STATE
KU bounced back from their crushing defeat at the hands of Texas Tech by cruising to a 52-21 win over Kansas State on Saturday. The victory extends KU's winning streak to 3 in the Sunflower Showdown.*:Thanks to heavy tailgating, the expected football win was quickly followed by unexpected bladder loss. Thankfully, K-State had plenty of Power Towels to clean up the mess.
LET IT BE (VERY PROFITABLE)
Harmonix Music Systems, the company behind the successful "Rock Band" series of video games, announced last week it will develop an interactive game based on the music of the Beatles. This is the first time the music of the Beatles has been licensed for any kind of digital distribution.*:Harmonix is already working on an expansion pack for their Beatles game that will erase all of your progress, creating bitter discord amongst your band mates, called "Grand Theft Yoko."
PWN CALL
Sarah Palin was the victim of a prank call recently when a Canadian radio duo, posing as French President Nicolas Sarkozy, successfully got the Republican vice presidential contender on the phone. The DJs had a brief conversation with the Alaskan governor in character as Sarkozy, proposing that they go hunting together but not wanting Dick Cheney to join them.*:The DJs admitted a personal stake in wanting to embarrass Palin and cost her the election since, if she were to win, their backyard would be flooded with a refugee army of whiny American liberals.
AUNT MISBEHAVIN'
It was learned last week that Barack Obama's aunt, Zeituni Onyango, has been living in Boston as an illegal immigrant. Onyango is the Kenyan sister of Obama's deceased father, and Obama has claimed no knowledge of her current status.*:News of an illegal immigrant in Obama's family sent shockwaves through the conservative media, until they found out she wasn't a Mexican and immediately lost interest.